Instagram provides a great opportunity for restaurant owners to market themselves. Few can argue how much impact an enticing image of food can have on their appetite and Instagram is the perfect place for businesses to share such pictures.
Setting up an Instagram is not just about the food pictures though; it is also about creating a space where customers can interact with and leave reviews for your restaurant. In this blog post, we break down some key Instagram strategies that you can use to increase your following and drive more customers to visit your restaurant.
1. Mix up your visual content
A key strategy in Instagram marketing is to mix up your visual content so that your restaurant can stand out and shine. Still photos are great and highly effective, but Instagram (like Facebook) rewards videos, stories, and boomerangs with extended reach so it is important to use a variety of media for your marketing.
Visual content such as videos or stories allow you to take customer interaction to the next level. They allow you to add a personal touch to your videos so that followers feel included. Here are a few ideas for engaging videos that you can create on Instagram:
- Introduce your followers to the chef(s) that are at work in the kitchen, preparing all the delicious food.
- Go live in stories with a full house, allowing people to see the ambiance and liveliness of your rooftop restaurant.
- Show a before and after shot of how ingredients are turned into a beautiful final dish that is served to customers. You can do a tutorial or a time-lapse video for this.
- Create boomerangs for celebrating the little moments. For example, you can create a boomerang of you uncorking a bottle of wine and pouring it into a glass to celebrate the weekend.
These are just some ideas, but the important message here is that you need to add variety to your media. Anything that you do, be sure to mix it up and make it as engaging for your audience as you can.
Here is an example of a short animated post from The Wayfarer that shows how you can use different types of media to make your posts more engaging.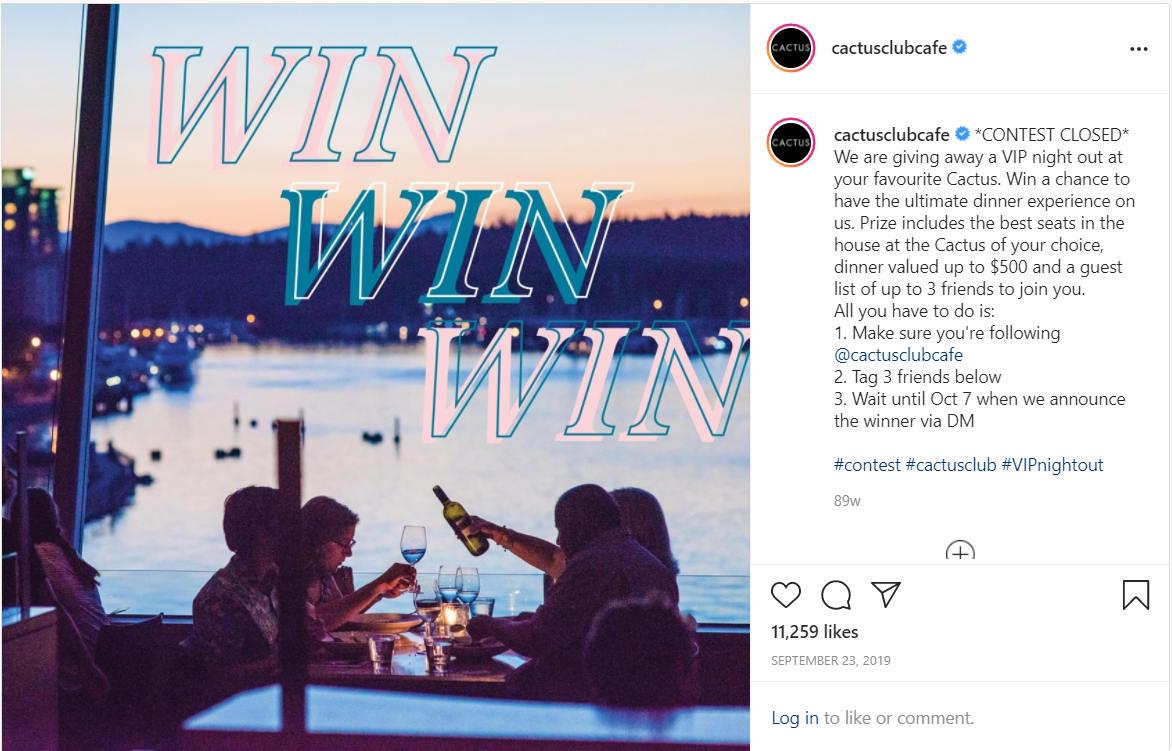 2. Interact with followers and encourage them to spread the word
Interactive posts are a great method of marketing because you not only engage with your followers but also encourage them to share and spread the word about your restaurant, which is free advertisement for you.
Here are three effective ways you can interact with your audience on Instagram:
A - Create posts with fill-in-the-blanks
A great way to engage with customers is to ask them to share their experience with your brand through fun, interactive posts. For example, if your rooftop restaurant offers steaks, you can create a post saying, "The best steak temperature at #restaurantname is _______". This will lead to customers responding and even making their case for what they think is the best steak temperature at your restaurant.
B - Hold challenges and reward customers
Holding challenges on Instagram is a highly effective way of encouraging customers to share your restaurant's tag and pictures on Instagram.
For example, you can ask your followers to post pictures of themselves dining at your restaurant with a hashtag containing your restaurant's name. The followers who get the most likes and shares on their picture or post will become winners of the challenge and you can offer them a free meal, gift cards, or similar rewards to incentivize them.
Here is a good example from the Cactus Club Café on how you can hold a contest on Instagram: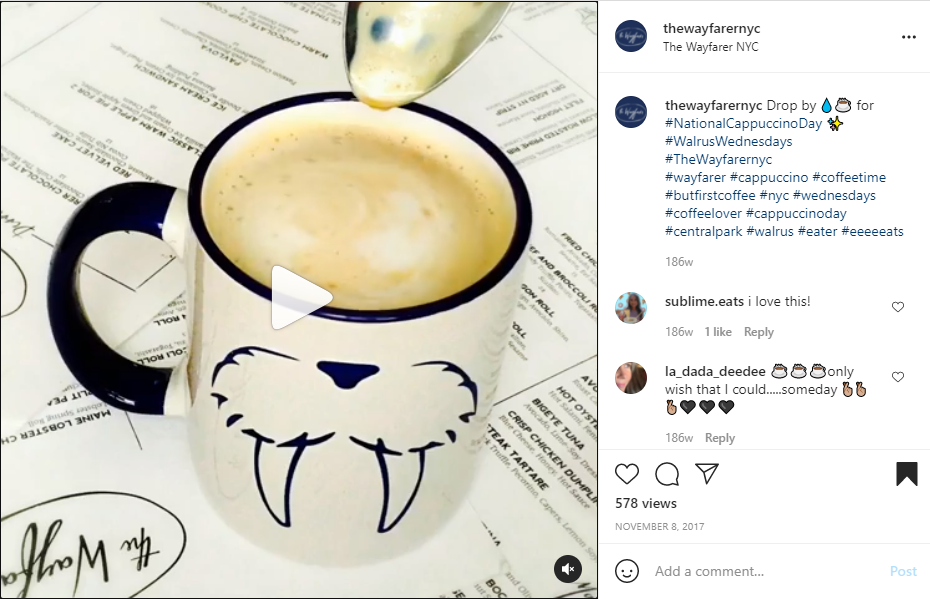 C - Ask your customers for their opinion
Asking customers for their opinion such as what changes should you make to your menu is a great way to involve them with your brand and keep them engaged. For example, if you are looking to offer a new dish or dessert, you can ask your customers to help you in naming it.
By enrolling your followers in the decision process, you are compelling them to stay in touch with your restaurant so they know how their ideas and thoughts were used by you. You can even invite customers with the best ideas to come by your restaurant for a meal to increase loyalty and increase conversion.
3. Make your posts and ads Insta-worthy
Instagram is all about eye candy and the visual quality of your posts and ads matter a lot more than they do on other social platforms. This means that you need to ensure that everything you post or advertise on Instagram is presentable and has the right aesthetics.
Here are some tips to help you make your posts Insta-worthy:
Be consistent with your brand image
Your brand image is very important on Instagram, especially because it gives customers the first impression about what type of rooftop restaurant you are running. For example, if you operate a restaurant that is open only at night and has musical performance then your Instagram page should have a sultry, subtle look with features that stand out such as the nighttime sky that is visible from your restaurant.
The important element here is that you need to be consistent, both with your voice and aesthetics on Instagram. Your followers should be able to easily perceive the ambiance of your restaurant from your Instagram posts, which will eventually attract the right audiences to come and visit you.
Create aesthetic posts and ads
As we mentioned earlier, the aesthetics and quality of your posts and ads matter a lot. Not only do you need to take eye-catching photographs, but also need to present them in the right manner to make sure that they stand out.
However, designing and editing posts can be a time-consuming and challenging task, especially for small restaurant owners who do not have in-house graphic designers.
The good thing is that there are some great tools such as PosterMyWall out there that can help you design professional, high-quality restaurant social media ads in a few simple steps. The tool is cost-effective, super simple to use, and provides excellent Insta-worthy results without the need for a professional graphic designer.
Make your restaurant searchable
Be sure that you tick all the boxes to make your restaurant as easy to find on Instagram as possible. For this, you can start with this simple checklist:
- Select an easily recognizable, brandable Instagram username. Ideally, it should be the same as or as close to your brand name as possible.
- Use relevant hashtags and keywords in your profile, posts, and ads to make sure that you show up on search results. For example, if you offer fast food, you can add hashtags (such as #fastfood, #rooftop, #burgers) to make sure the right audiences can find you.
- Add a meaningful description to your profile so that customers know exactly what cuisine your restaurant deals in and where you are located.
Start marketing your restaurant on Instagram today
We have shared the basics of how you can get started with Instagram marketing for your rooftop restaurant. The most important thing to do now is to get started as soon as possible so you can optimize and refine your Instagram marketing strategy for attracting more customers to your restaurant.