Rooftop bars in Kuala Lumpur vary from elegant ristorantes to sophisticated cocktail lounges, all of which are perched above high-rise buildings. Our top picks provide an excellent atmosphere for people who like to sit back and watch the sun dip into the city horizon — with a drink in hand – as the sun sets over the city.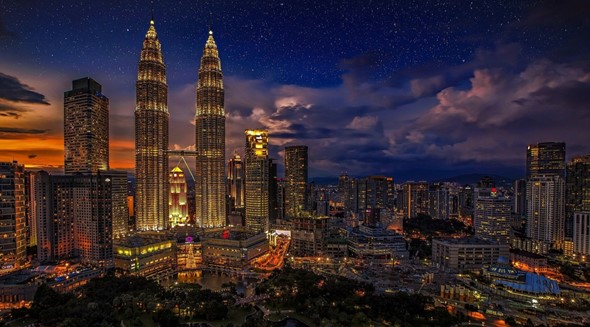 From dawn to dusk, there is no denying that Kuala Lumpur is a dynamic, busy metropolis with much to see and do. We urge that you move away from the crowded streets and take in the view from a whole other perspective - from the rooftop bars – to obtain a completely new appreciation for Malaysia's capital.
As Malaysia reopens borders for international tourists, we have curated a list of Malaysia's top rooftop bars where you can enjoy the beauty and nightlife of the country.
1. Marini's on 57
On the 57th story of the Petronas Tower 3 in Kuala Lumpur, Marini's on 57 is an exquisite Italian restaurant (adjacent to Suria KLCC). It is separated into three sections: ● A dining room ● A bar with art deco furniture and neon lights ● A Havana-style lounge with brown leather seats The eating area has a bar with art deco furniture and neon lighting.
On the walls, paintings by Italian artist Rosalba Mangione hang, and the views of Kuala Lumpur are enhanced by floor-to-ceiling windows and a glass roof that extends into the sky.
2. SkyBar
The SkyBar, located on the 33rd story of the Traders Hotel Kuala Lumpur, is a stylish cocktail bar. The pool, which is flanked on one side by cabanas and the other by a bar, is the focal point of the complex. If you're planning on hitting the Kuala Lumpur nightlife scene, SkyBar is a must-stop. On certain evenings, resident DJs blast techno music, making it a must-see. Various music is played on other nights, ranging from jazz and easy listening to soft rock and contemporary pop songs.
3. Troika Sky Dining
Troika Sky Dining is one of Kuala Lumpur's most spectacular rooftop bars, with a view of the city's skyline. It is located in Tower B of The Troika along Persiaran KLCC and consists of three fine-dining establishments and a bar: Cantaloupe, a fusion-focused restaurant; Strato, an Italian bistro; and Claret, a wine bar. You can also check the Kuala Lumpur travel guide.
4. Mai Bar
The Mai Bar is located on the 30th level of the Aloft Kuala Lumpur Sentral hotel. It's a big rooftop and poolside bar that serves a wide variety of alcoholic beverages, creative cocktails, and live music from resident and guest DJs that spin cutting-edge music. From 5 p.m. onwards, you may take advantage of happy hour promotions at this popular spot in Kuala Lumpur to relax and watch the sunset.
5. Bridge Bar Kuala Lumpur
Located between the two buildings of the G-Tower Hotel Kuala Lumpur, Bridge Bar is an elite nightclub with a unique design. One of its most impressive features is a glass platform from which you may walk and enjoy a great downward perspective — an exhilarating experience that you will not forget anytime soon.
A visit to Bridge Bar is highly recommended if you want to relax with a drink while taking in some of the most incredible views of the city. In the background, you can hear R&B, jazz, and Top 40 music being played softly on the stereo.
So, here is a list of the top locations to visit in Malaysia to enjoy the best nightlife that you should put on your bucket list on your next visit to Malaysia. For those seeking a budget-friendly holiday in Malaysia, visiting during the off-season, from March to November, can undoubtedly help you save money on your travel expenses. If, on the other hand, you are looking for a luxurious vacation, the months of December to February are the perfect months to discover Malaysia's breathtaking natural beauty.