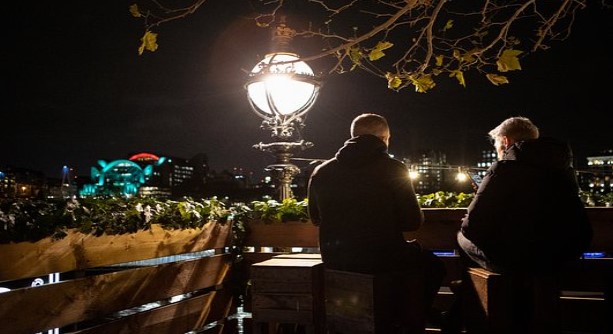 There's nothing quite as satisfying as enjoying a drink in the summertime while looking out on an awesome view.
After reading about the best rooftop bars in Croatia, you'll never want to enjoy your drink at some stuffy indoor bar again.
This Is The Top Bar In Hvar
Known as the sunniest island in Croatia, and named the best island in Europe by Conde Nast Traveler, there are many reasons to visit Hvar. And we're about to give you one more.
Situated on the rooftop of the Adriana Spa Hotel, this rooftop bar, and restaurant offers the very best in Mediterranean and International cuisine, as well as delicious Italian & Asian-influenced delicacies.
This is the top bar for light meals, drinks, and soothing music in Hvar, and they know it. Well, it is called the Top Bar, after all.
But if all you've come for is a relaxing drink with a view, you won't be disappointed. Enjoy a bottle of wine or one of their signature cocktails while gazing out at the beautiful Adriatic Sea. And we're sure you'll agree that this is the top bar, by far.
Get Vertigo at The Vertigo Bar In Zagreb
In Zagreb for the outdoor InMusic Festival (20th June – 23rd June)? Okay, hopefully, you don't suffer from vertigo, because you don't want to visit Zagreb without enjoying this gem of a bar. So after you've danced the night away, relax at this bar with a refreshing drink.
The Hotel Antunović set the bar high, with their rooftop bar, Vertigo. Enjoy their finest cocktails, wine, cognac, and cigars and relax in comfort, while the surrounding rotating dome affords you spectacular views of the city below.
Never Forget The Bar Under The Stars In Zadar
Does sipping a cocktail, enjoying some fine wine, or slaking your thirst with a cold beer next to an infinity rooftop pool on a sun lounger, sound like a good time to you?
It sure does to us, which is why we recommend you check out the sensational rooftop bar atop the LaVie Hotel. You'll be so impressed with their stellar service under the stars and the stunning views of the city of Zadar, that you'll want to throw a party. And they'll be happy to accommodate your private event.
So why not rent a boat in Zadar to transport your friends to your new favorite party spot? Or take them on a short trip after the party. Zadar is the perfect starting point for cruising around the Dalmation Coast.
Don't Omit This Rooftop Bar in Omis
Known for its great music, fantastic service, and epic cocktails, you won't want to miss out on this one during your stay in Omis. The Eol rooftop bar at the mouth of the Cetina River will delight your senses.
If you've just had an epic Cetina Canyon Zipline adventure, we know you've had some breathtaking views. But if you're not quite brave enough for that, never fear. Enjoy those amazing views differently, with a drink in comfort at the Eol rooftop bar.
Enjoy a cool, refreshing breeze while you look out on the majestic mountains. But don't worry that you'll get too much of a chill. There's a glass surround to shield you from the wind while still allowing you to enjoy the cool air and even cooler views.
A great place to socialize with a few drinks at the end of the day, the stunning sunset views will take your breath away.
Rise Above It All At Above5 In Dubrovnik
Are you planning a trip to Dubrovnik for the Dubrovnik Half Marathon in May? Or the annual Summer Festival (held from July 10th - August 25th)? Perhaps you are just sightseeing, doing a walking tour of the Old Town and all of its historic buildings.
Whatever the case, you'll be thirsty after all that activity. And we know where you can go to quench your thirst while enjoying some amazing views of the Old Town.
Above5 is the luxurious rooftop terrace restaurant and bar at the Stari Grad Boutique Hotel. Recognized by the Michelin Guide in 2018, it offers fine wining and dining with breathtaking views of Dubrovnik's Old Town.