One of the best ways to enjoy your rooftop space is to create a garden. A rooftop garden can offer stunning views, fresh air, and a place to relax and entertain. However, as with everything in life, nothing is as simple as it sounds! Nonetheless, with a bit of planning and some elbow grease, you can have a stunning rooftop garden that will be the envy of your neighborhood. Here are some tips on how to make a beautiful rooftop garden that will be a positive addition to your home and your life.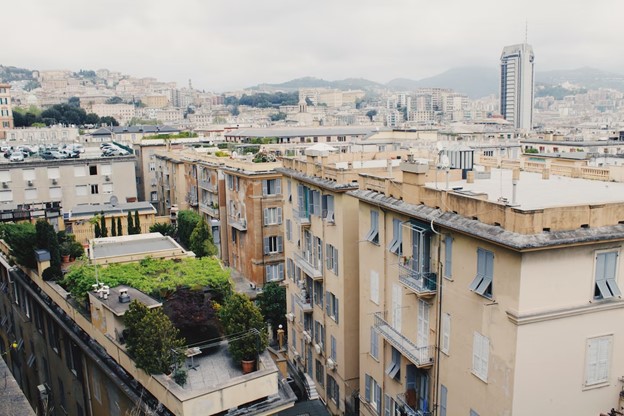 Decorate It With Beautiful Plants And Flowers
A rooftop garden is a great way to make your home look more inviting and welcoming. When you have a garden on your roof, it also becomes an extension of your living space. A mixture of interesting plants and flowers is a great way to add color and life to the area. However, when you think about adding plants and flowers to your rooftop garden, you should consider what you want it to look like. You have many options, from peony flowers to lavender and a wide range of other options. You might want it to be more of a green roof or plant-covered roof, or you might want a more traditional garden feel with trees and shrubs.
Moreover, you may even want something in between these two extremes, such as an edible rooftop garden that can provide food while also providing beauty. The choice is yours, and with a little creativity, you can create something spectacular. Let's take a look at some of the most popular options you can use to create a stunning garden in the sky!
Peony Flowers
A wide variety of colors, forms, and sizes of peony flowers can be found on peony plants. The perennial plant has a long history of popularity as a garden plant thanks to its resilience and long life. In fact, it's these points that make the peony such a popular option for those looking to add a little flair to their rooftops without sacrificing longevity. You can find peonies on most continents and even in areas with colder climates. This means that if you're brave enough to set up a rooftop garden in colder climates like Canada, you can find peonies in Toronto that will withstand frigid conditions! Nonetheless, they tend to prefer being in full sunlight, possibly finding shade during scorching midday temperatures.
Lavender
Lavender is easy to grow and doesn't require much maintenance. You can grow it on your rooftop garden without worrying about it taking up too much space or not getting enough sunlight like other plants would need in order to thrive. Lavender is a versatile plant that can be used in many different ways, such as oil or decoration.
Kousa Dogwood
Kousa Dogwood is a beautiful flowering tree that can be grown in rooftop gardens because of its robustness and beauty. Although it is recommended to keep the soil averagely moist, it is pretty drought resistant, making it ideal for locations with long dry summers.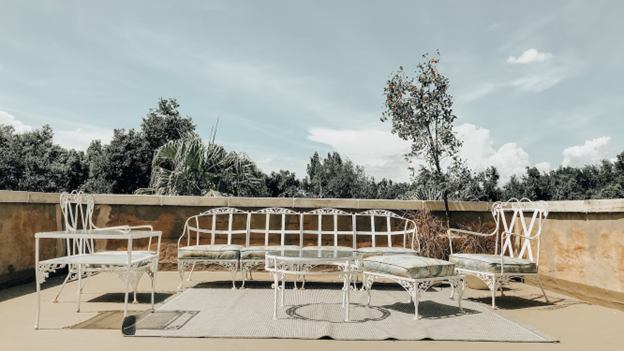 Daylily
Daylilies are a beautiful addition to any garden but also have a few other great qualities. They are effortless to plant and maintain, can grow in the shade or sun, and will thrive in most soil types. Moreover, daylilies are an excellent choice for people who don't have a green thumb because they require little care or maintenance. This plant is a fantastic addition to any garden, rooftop or otherwise, owing to its constant blooming, adding a splash of color no matter the season.
Make Use Of The Vertical Space
Vertical space is a valuable asset in any garden but takes on a new meaning when you're decorating a more diminutive space. It can be used for various purposes like growing vegetables and herbs or simply creating more space for your beautiful peony flowers (especially since these plants can grow up to seven feet tall). Also, vertical plants grow faster since they don't have to spend as much time searching for light. Furthermore, vertical gardens take up less space on your roof than regular gardens do, so you can grow more plants on your roof while still having plenty of room to move around and enjoy the sunshine.
Avoid Overcrowding The Space
One of the most important things to consider is your rooftop size. If you have a large rooftop, you can plant a lot more plants, but if you have only a tiny space, you will need to be careful about what plants you choose and how many of them you put in your garden. However, this also extends to other things that you might wish to place in the area. Most people design these spaces to be locations of peace and tranquility or as places of entertainment. The more you fill it up, the more challenging it becomes to keep it looking how you want it.
Create An Atmosphere Using Lighting
Lighting is a crucial element in the design of a rooftop garden as it is responsible for creating the atmosphere and setting the tone of your space. Proper lighting will make your garden feel inviting, cozy, and warm. Fortunately, you have numerous options to illuminate your space for various occasions. You could use spotlights to highlight a particular part of the garden or use brighter lights to light up the whole area. You could also choose to have a dimmer system so that you can adjust the brightness of the lighting depending on what time of day it is. Alternatively, you could keep things simple and hang a line of fairy lights around the place to create an ethereal atmosphere where you can contemplate life and enjoy the best things in life, which also leads nicely to the next point!
Create A Sitting Area For Solo Introspection Or To Use With Friends
Life is for living, not merely exciting! Unfortunately, too many people miss this point and go through life, forgetting to enjoy the finer things. Therefore, if you have access to a rooftop garden, you should design it to allow quiet reflection when you're feeling contemplative and can still be shared with friends when you're feeling social. The best way to achieve this is via the use of furniture. You can set up a shaded location from the sun and set up lots of comfortable but functional furnishings for every occasion.
Add A Hot Tub If You Have The Space
A hot tub is an excellent addition to any rooftop garden. It provides a place for people to relax and enjoy the view and an opportunity for people to mingle. In fact, you could argue that a place with such a splendid elevated view simply isn't complete without this luxury!
Use Colors That Are Appropriate For The Area's Aesthetics
The use of color in gardens is one of the most important aspects of design. The use of lighting can be used to create a mood or atmosphere and enhance the natural beauty and balance. There are many ways in which color can be used in the garden. For example, it can make focal points stand out or create patterns that flow throughout the garden. One way is by adding flowers such as peony flowers, plants, and trees with different colors. Another way is by adding colorful stones (or even painting them yourself) and natural elements. Furthermore, if you are particularly artistic, you might be able to paint a mural on the walls surrounding the area.
Resurface The Floor
When upgrading your garden's aesthetic, the floor is typically overlooked and ignored for flasher and more exciting elements. However, this is a terrible mistake, as resurfacing the floor can make a significant difference and change the entire feel of the place. When it comes to flooring, you have three options:
1. Tiles: Tiles afford you the most creative and enable you to create a space truly unique. However, the cost of buying and installing them is higher than other options.
2. Polished concrete: It is one of the most durable and affordable options, but it is thought by some to create an "unfinished" look.
3. Wood decking: Wood decking is fantastic for those who want a more rustic style. However, timber is still pretty expensive (although reducing slightly), and you'll need to ensure it's weatherproof.
Build A Mini Kitchen/Bar Area
What do you do if you are a social butterfly and want to use your rooftop extensively but are also slightly lazy? Well, the answer is to build a rooftop kitchen and bar, of course! Luckily, this need not be as complicated as it initially sounds. For the kitchen, you could set up a sink and BBQ area (if your justification allows it). For the bar, you can purchase a mini drink refrigerator to store a range of drinks for your thirsty guests. However, suppose you have an extensive area to work with. In that case, hiring a contractor to design and build a fully-functioning outdoor kitchen with everything you need to keep you and your friends happy and content could be advantageous!
If you want your garden to stand out, try to make it as beautiful as possible. By using the tips in this article, you will be able to build a bastion of luxury, fun, and contemplation. As long as you get the first point on the list correct and choose the perfect plants, everything else should fall into place.