A trip to the Sunshine state offers sandy beaches, sea views, and of course, plenty of beautiful sunshine. But when the sun is setting, and you need a change of pace, there's nothing like a refreshing drink with a view.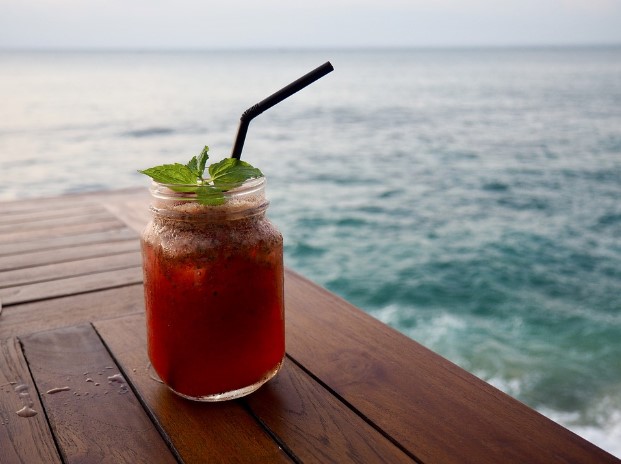 Florida boasts so many fantastic rooftop bars, you won't have a hard time finding a good one. But there's good, and then there's great. So this is our selection of the 7 best rooftop bars in Florida.
Juvia Rooftop Bar - Miami
There's so much to see and do in Florida. Boating, watersports, historical landmarks, and even fine dining. As so many of these are accessible from the water, a yacht rental in Miami offers you the best way to get around. But after exploring Miami and its surroundings from the sea, you may want a change of pace.
So head on over to the Juvia Rooftop Bar and see Miami from a whole new perspective. Located at 1111 Lincoln Rd in South Beach, Miami this rooftop bar and restaurant's floor-to-ceiling windows offer the best harbor and city views, from 9 stories up.
Beacon Social Drinkery - Fort Myers
Miami offers some of the best nightlife on a trip to Florida. Whether it's a beach party or a downtown nightclub, you'll find plenty of places to have a good time. But after a night of partying, you can sit and enjoy the view at the city's highest rooftop bar, Sugar.
Located on the top floor of hotel EAST, you'll enjoy a 360-degree panoramic view of the city in Balinese-style surroundings. This hotel is also home to one of the best rooftop pools in Miami.
Rooftop @ 1WLO - Fort Lauderdale
Fort Lauderdale is considered the yachting capital of the world. It's also home to the International Boat Show and attracts millions of visitors each year. But there's more to enjoy here than just boating and watersports.
So when you need a change of scenery, head to the rooftop. The Rooftop @ 1WLO at 1 West Las Olas Boulevard Suite 700, to be precise. Situated in downtown Fort Lauderdale, about 1.6 miles from the beach, this trendy rooftop bar has amazing cocktails and delicious pub-style meals.
Area 31 - Downtown Miami
Forget about looking for aliens at Area 51. Head to Area 31 in Miami for an out-of-this-world experience. This bar at the Kimpton EPIC Hotel is also one of the best rooftop bars in Miami. So for an epic night of outstanding seafood cuisine and signature drinks, be sure to include this on your itinerary.
You'll find the hotel at 270 Biscayne Boulevard Way in Downtown Miami. The award-winning restaurant offers great seafood and even some vegetarian-friendly options. And we hear they serve the best piña coladas and nachos in the universe.
Treehouse Bar - West Palm Beach
What was the best part of building a treehouse as a kid? Looking at the view from up there. But don't despair if you didn't get to experience this. Because you can still enjoy that feeling at the Canopy West Palm Beach Hotel. Besides a lush rooftop garden, pool, and lounge area, it also boasts the popular Treehouse rooftop restaurant and bar.
Perched atop the hotel at 380 Trinity Place, Treehouse offers awesome views of downtown West Palm Beach. Have fun identifying the landmarks of West Palm Beach while you're waiting for your scrumptious tuna tacos or delicious guacamole.
Canopy Rooftop Lounge - St Petersburg
St Petersburg was founded in the late 1880s and was named after one of its founders' hometown of St Petersburg in Russia. The world's first commercial flight took place here in 1914 and this town is also home to the Salvador Dali Museum, which houses the world's largest collection of a single artist.
With so much history here, you'll want to spend an entire day or 2 exploring the town. But a day of sightseeing can be tiring. It's essential to take a relaxing break with a cool drink and unwind. So when you find yourself thirsty in St Petersburg, head to the Canopy Rooftop Lounge.
It is situated at 340 Beach Dr, NE St Petersburg, on top of the elegant waterfront boutique hotel, The Birchwood. Treat yourself to their selection of delicious bar snacks and craft cocktails while you enjoy spectacular views of Tampa Bay.