World class sushi and skyline views at Tomo rooftop
Published: February 7, 2017
Our last night in Dubai we spent at Tomo, which is both a rooftop bar but also a fantastic and classy Japanese restaurant.
Tomo Dubai is located in the old part of Dubai, high up on the pyramid shaped Raffles Hotel. We had a table booked on the terrace at 7PM so when we arrived it was already dark. Unfortuneatly this meant we missed out on an amazing sunset, but instead we got some fantastic night time views of the "new" Dubai skyline. It's really cool to watch the iconic skyline in lights from a distance.
#TOMOviews
We were very friendly greeted upon arrival and shown to our table on the terrace, a perfect spot in some really comfy sofas. First up was a cocktail and we decided to go for their own signature cocktail. Actually not sure what it was called, but it was passion fruit and champagne and it was absolutely delicious!
Hasse and Erik with the signature cocktail
Since we were not extremely hungry we decided to share some different sushi, both tempura and california maki rolls, some sashimi and one special fatty tuna. The food was very nicely presented and tasted really good. Especially the salmon sashimi.
To the food we also ordered some Japanese beers. By many considered as one of the best rooftop bars in Dubai when speaking of quality of food and service.
Yummy sushi
If you are not in the mood for sushi the food menu is filled with other stuff like steaks, sallads, noodles or fish.
The feeling up here is that everything is of really nice quality. The decoration of the terrace is really classy, and then the view as well of course. And the service we recived was great and our waitresses took really good care of us, making sure we had everything we needed, friendly, attentive, happy to take a photo or even be in one :)
Us and some of the staff
As is usually the case, high quality means that Tomo is a bit on the prizy side, but we really got good value for the money.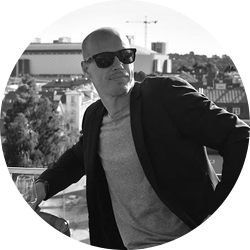 Written by:
Rikard Fredricson
- Co-founder, Creative & rooftop expert at The Rooftop Guide