World class cocktails, superb food and breathtaking views from The Terrace at Trump
Review
World class cocktails, superb food and breathtaking views from The Terrace at Trump
Pricey, but well worth a visit
Published: July 14, 2017
An evening filled with most of the things you wish for from a perfect rooftop bar in Chicago
Our table was set at 7:00 PM so that we would get both daylight, sunset and darkness. The perfect way to enjoy a rooftop for a couple of hours.
One thing you noticed right away was the luxurious feeling to everything and that the service was very fast and attentive. There were lots of waitresses and people in the bar. Our plan was to enjoy some signature cocktails and bar bites.
First out, we got four superb cocktails served in a beautiful and nice way. The different colors of the drinks and the great taste made it a very good start of the evening. After we have poured down the drinks to the sunset view of downtown Chicago, the Chicago River and Lake Michigan, we decided to try some bar bites.
The kitchen had prepared a couple of good ones for us. For example, flat bread with a lovely guacamole and some truffle fries with a yummy dip sauce.
We finished the evening with some beers in perfect time for the sunset. There's always something magical when the sun is setting in a big city. The skyscrapers start to light up and the city turns in to a beautiful color spectacle. I will never get tired of seeing this.
We can recommend The Trump Terrace to everyone that wants to visit a cool rooftop in Chicago.
The only downsides with the terrace is that its located in the shadow and it can be quite windy up here. Be prepared to spend some money while here. The prices are quite high but you will get what you pay for. Everything is made to perfection.
Make sure to book your table in advance and dress for success to feel at home here. Some tables has a minimum spending fee, so make sure to look this up before your visit.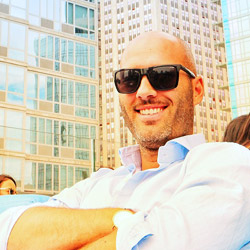 Written by:
Hans Ebenman
- Co-founder, CEO & rooftop expert at The Rooftop Guide