Visiting rooftop bars in Melbourne
Visit
Visiting rooftop bars in Melbourne
Captain Baxter, Transit Rooftop Bar, Rooftop bar (Rooftop Cinema) & Goldilocks
Published: January 6, 2016
After the New Years party at Transit Rooftop Bar we decided to visit some other rooftop bars Melbourne had to offer. The wheather this day was really warm with temperatures around 40 degrees.
Down by the beach in St Kilda, Melbourne you'll find this nice rooftop bar. With a cozy lounge feeling, cool beach views and nice party atmosphere this is a perfect rooftop bar in Melbourne if you like to chill out in the sun :).
Rooftop selfie at Captain Baxter.
Captain Baxter a sunny day.
We just love this place. Nice 360 degree views over Melbourne, friendly and good staff, delicous cocktails and a great atmosphere.
Mighty skyline view over Melbourne from Transit Rooftop Bar.
Cocktails in the sunset at Transit Rooftop Bar.
Unfortenatley we missed the sold out cinema (The Goonies), but we had some drinks in the bar instead. Cinema at a rooftop bar has become very populare in Melbourne recent years. And we can understand why :).
In the bar at Rooftop Bar (Rooftop Cinema).
View from Rooftop Cinema.
Drink menu at Rooftop Bar (Rooftop Cinema).
Here we took an Espresso Martini and some beers. We also had a little chit chat with the bar stuff, and they were very polite and nice. A good place in the same area as Rooftop Bar (Rooftop Cinema) – so the view were pretty much the same among Melbournes scyscrapers in the city center.
With the bar staff at Goldilocks.
Next stop Sydney!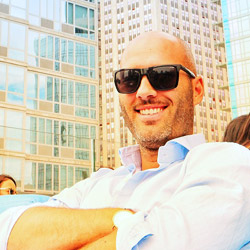 Written by:
Hans Ebenman
- Co-founder, CEO & rooftop expert at The Rooftop Guide