Visit at 4 rooftop bars in Sydney
Visit
Visit at 4 rooftop bars in Sydney!
Watson Bay Hotel, Glenmore Hotel & Cafe del Mar
Published: January 10, 2016
The two last days in Australia we decided to try out some of Sydneys best rooftop bars. Unfortenately the weather was really bad the second day, so we couldn't do the rooftop yoga Sydney had to offer. But we managed to get som fine rooftop moments anyway.
Watson Bay Hotel
We had an awesome day at Watson Bay and there hotel. Here we had a fantastic lunch at the rooftop bar with some good friends from both Sydney and Melbourne. The food was very good and the drinks cold and fresh. We eat sashimi, smoked salmon salad, calamares and ceviche.
For drinks we decided to share som bottles of Prosecco. Watsons Bay Hotel will defintly be added to Therooftopguide. The rooftop bar is only on the second floor, but the view over Sydney and Watsons Bay are breathtaking. Book table in advance to be sure to have a seat on the terrace.
Cool skyline view from Watsons Bay Hotel.
Rooftop selfie with an amazing skyline of Sydney.
Sadly enough, the weather was really bad when we visited the rooftop bar at Glenmore Hotel in Sydney. But the views, the beer and service was of highest quality. They had a controllable roof to keep the rain of the seats and also some heaters for the colder days.
All in all, we were happy with what we experienced. The sunny days, this placed is always packed, so be here in time to have a seat.
A beer at Glenmore Hotel.
View from Glenmore Hotel over the skyline.
Among rooftop bars in Sydney, Cafe del Mar is one of the most exclusive ones. With a location in Darling Harbor and views over the whole area this is a perfect place for cocktails. We had some nice Espresso Martinis and a couple of Coronas.
The seats here are very comfy with big lounge furnitures to sink down in. Nice views, tasty cocktails, luxurious decor and confy seating is what you can expect from this rooftop bar in Sydney. Hopefully we'll see the sun next time :).
In the bar at Cafe del Mar.
Espresso Martinis at Cafe del Mar.
Corona with a view.
Sydney is a good city regardning rooftop bars. When the weather is fine – which it is almost every day here – there are some nice rooftop bars to visit.
Next stop SINGAPORE! Stay tuned.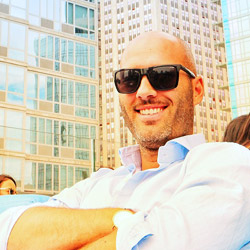 Written by:
Hans Ebenman
- Co-founder, CEO & rooftop expert at The Rooftop Guide