Vermouth with a view at Sky Bar Barcelona
Review
Feature:
'Vermouth with a view' at Sky Bar Barcelona
"A must visit during Barcelona winter weekends"
Published: January 14, 2019
Soft lounge vibes, lovely views and great cocktails: Sky Bar is a must visit during Barcelona winter weekends.
The Sky Bar at Grand Hotel Central is quite an exclusive spot. Mainly open to hotel guest during the summer months, at least until 8pm when dinner is available for outside guests.
While the winter season between November to March means no nightly dinners, it is instead the time for 'Vermouth with a view' (#vermutconvistas). Every weekend between 12 noon to 6pm the rooftop terrace is open to the public, offering vermouth, cocktails and gastronomic tapas. This was of course something we wanted to try.
Ambience & views
We visited the Sky Bar at a sunny Saturday afternoon, just when 2018 was about to turn into 2019. Not the first visit up here for The Rooftop Guide (one of our favourite spots in Barcelona), but a first for 'Vermouth with a view'. And come summer or winter, the views from the terrace are always fantastic. It really feels like you have the whole city by your feets.
As with the views, the rooftop infinity pool looks just as fine and inviting in winter, even though around Vermouth-hour, the sun beds are replaced with dining tables. Since the rooftop pool is heated, there were a couple of hotel guests going for a swim, just as we did last season (check it out here).
We arrived at very soft and calm lounge vibe, some cool tunes in the speakers and just a few other groups of people around. So we could pick and choose just about any spot we wanted.
For ultimate views, we ended up at the front-row railing seats where you can just gaze out over Barcelona for hours. Most other where seated in the lounge area, which is understandable since it comes with heaters. This is the only downside with the Sky Bar in winter afternoons, the otherwise warming sun doesn't reach the terrace. While it creates a really cool view, with contrasts between shadows and the city bathing in sun, it also means you should bring something warm to wear. Otherwise there is also blankets to borrow.
Lounge area
Viewing-spots
Cocktails, bites & service
Since the afternoons are called 'Vermouth with a view', we started with that, one red and one white. Not that familiar with this classic Spanish drink, but very pleasantly surprised. Did like the white one best, even though the red one had a touch of cinnamon and remembrance of Swedish Christmas. The drinks were topped of with some surprisingly filling and tasty green olives and chips with dips.
While the Vermouth was a fun try and nice in taste, the "real" cocktails was also the real treat. With a couple of Gin & Tonics to choose from, we went for a refreshing one from Catalonia called 'Gin Mare Triple Orange' (bitter orange, bitter and orange twist) and a 'Whisky Sour' made to absolute perfection.
The cocktail list is impressive, with a bunch exciting premium creations, and our 'Whiskey Sour' was not even on the munu, so the talented staff can hook you up with any classic you want as well.
Whiskey Sour
Gin Mare Triple Orange & Whiskey Sour
Since it was just after lunch, the snack we got to the Vermouth was more then filling enough for us. But the menu also includes a good selection of tapas, like Iberian Ham, Veal Carpaccio and Amelie Oyster.
With the soft and calm atmosphere surrounding the terrace, it means no waiting ordering and getting food and drinks, and a bit of a VIP-vibe. This is highlighted by a very professional and friendly service. We had Oliver taking care of us during our visit, and with a fun and 'no problem at all'-attitude he made sure we had everything we needed. Also kudos to Melani for the fantastic cocktails.
CONCLUSION
If you are in Barcelona over a winter weekend, Sky Bar is a must visit! While making it a full stay at Grand Hotel Central is highly recommended, a couple of hours on the terrace for fantastic cocktails and amazing views is a minimum. Just remember to bring something warming to wear.
Address: Grand Hotel Central, Via Laietana, 30, 08003 Barcelona
Hours: November - March, weekends 12 noon - 6pm
• Amazing cocktails
• Calm & soft vibes
• Great service
• Heated pool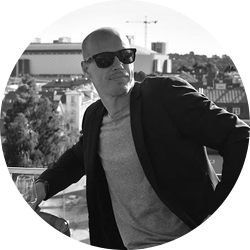 Written by:
Rikard Fredricson
- Co-founder, Creative & rooftop expert at The Rooftop Guide