Two amazing rooftops in London and meetings with their bar managers!
Published: June 2, 2016
The rooftop bar Aqua London:
The first afternoon in London, we spent at the most centrally located and very popular rooftop, Aqua London. Aqua London has two to look like terraces, but with completely different concepts - Aqua Kyoto and Aqua Nueva. Here's some more information about the Aqua Rooftop Bars.
Nicholas, Rikard and me.
We started with a drink on the terrace Aqua Kyoto. A classic Aperol Spritz was the choice for both of us while we waited for the bar manager Nicholas as we had booked the meeting at 16:00. Nicholas appeared just after 16 and proved to be a really nice guy.
We started with another Aperol Spritz before we went over to the other rooftop, Aqua Nueva. The atmosphere here was a little bit calmer, with less people and a really comfortable and relaxed atmosphere.
Rille at Aqua Kyoto.
Nicholas got a table right at the edge of the terrace with Regent Street below and views of the major parts of London. Here we also got a taste of several Spanish tapas in form of some different charcuterie, padrones, and fritters. Really nice and tasty for our drinks.
We had now received a beer each and some signature cocktails that are special just for their bar. Everything tasted very well.
Snacks and Aperol Spritz.
Nice view over the roofs around Regent Street in central London.
Yummie!
Nicholas told us of his history in the restaurant business and it turned out he had a friend in Sweden in the city of Gothenburg. Just like us Swedes the British people are crazy in outdoor terraces, which is immediately evident when the heat starts to come. Aqua London is a stunning rooftop bar in London with the best location in the whole city.
Sunny and nice at Aqua Nueva.
This lovely rooftop bar was located in our hotel. It was not a coincidence that we booked our nights right here. Good price, good location and a really great rooftop.
Here we had a good dialogue with the staff long before and booked up a meeting on the rooftop terrace. Once up, we were received by the bar manager Eanna who showed us to our table.
Sky Loungen at Hilton
Our idea here was that we would take ha drink each, a little bar snacks and then round off the evening. Instead, we ended up ordering in almost every single signature cocktail they had on their list of specialty drinks.
3 hours later, we wobbled happy and contented down to the room for much needed sleep. The drinks were both acidic, strong, sweet, and even the one with Fernet Branca tasted very good. Top class in both service and drinks.
Drink 1 at the Sky Loungen at Hilton.
Drink 2 at the Sky Loungen at Hilton.
Drink 3 at the Sky Loungen at Hilton.
Drink 4 at the Sky Loungen at Hilton.
Drink 5 at the Sky Loungen at Hilton.
Drink 6 at the Sky Loungen at Hilton.
Drink 7 at the Sky Loungen at Hilton.
Sky Lounge at the Hilton Doubletree is a rooftop bar with very good party and lounge atmosphere. There is both a sky bar (indoor) and a rooftop bar outdoors. The view of the Thames and the financial quarter's skyscrapers was very powerful in the dark. Great rooftop bar in London if you like party.
Our awesome waitress Marta with Londons skyline in the background.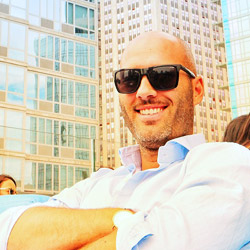 Written by:
Hans Ebenman
- Co-founder, CEO & rooftop expert at The Rooftop Guide