Top seats at one of the worlds coolest rooftops in Shanghai
Published: October 16, 2016
Drinks and meeting with the staff of one of the world's coolest rooftop bars - Flair at the Ritz Carlton in Shanghai
When we arrive at the IFC Tower around 2:00 PM and go out of the taxi we are greeted by a giant entrance. IFC Tower is a commercial building complex consisting of two tower blocks of 250 meters (South Tower) and 260 meters (north tower). Here they have, offices, a hotel and a 85-meter-high block of flats behind and between the two towers.
The hotel The Ritz-Carlton makes a part of the building and has a famous rooftop bar with one of the world's top views, Flair Rooftop Restaurant & Bar. We understand when we see all the people at the entrance to this is a popular destination on the trip both for tourists and the Chinese themselves, largely due to the building is part of Shanghai's powerful and famous skyline.
We where super exited, as the Flair rooftop bar is considered as the rooftop bar Shanghai has available.
The foyer teems with lots of people, and luckily we get help and guided further by an entre host asking us which floor we want to. The elevator is big and takes us the full 58 floors in no time. We walk out of the elevator and are greeted by six hosts and hostesses.
As we have previously had experience in China, it is lots of people who work inside all restaurants. Perhaps in our eyes a little too many, and one wonders as to what everyone is doing. At first there's a bit of confusion when two of the people at the welcome desk start talking at the same time and the message that we have booked a table doesn't go through.
Inside the restaurant
After a while we get our table and are welcomed by flairs Director of Public Relations, Michelle Tan Staples. A very happy and friendly girl who speaks fluent English, which is not too common in China. She says that Flair with its 58 floors is the highest bar and restaurant with outdoor dining area in the whole of China, and it is designed by the international design firm Super Potato, who has designed many famous restaurants, hotels and other buildings in Asia.
At first we go through the cozy restaurant section whose interior has a warm mixture of rustic and modern, creating a loft-like living room. We say hello to the happy bartender Amy, who's preparing our drinks. We have explained that we gladly let her decide what to drink, and that she gets to mix some different cocktails for us.
The table at the terrace
Me with the mighty views of Shanghai in the background
After this we walk out on the terrace and its magnificent views which is really jaw-dropping! It is as if the city looks like a miniature model from this high view. The outdoor environment is casually elegant, relaxed lounge areas with sofas and a spectacular view of the Huangpu River and Shanghai.
We sit down at our table and wait for our drinks. Since we have arrived at the day (and maybe because we are thirsty Westerners), we are probably the only ones who drink alcohol at this time. Most of the tables around us ordered the afternoon tea.
You can also order other food from a bar menu, but in the evening they have a large a la carte menu. The restaurant serves an Asian fusion tapas-style with inspiration from Japan, Indonesia, Vietnam, India, China and Thailand. You can also order sushi and seafood from a separate Seafood bar.
Cool view over Shanghais skyline
Our crew
As for drinks, there are about 10 "signature cocktails", self-composed drinks, which seems ambitious and well composed. Several of them are fruity with Asian flavors. Something that stands out in the well-stocked bar is the approximately 40 different varieties of vodka, and rum from some really rare distilleries.
One of the lovely cocktails
Should we mention something negative about Flair, it is possibly the price. Neither the drinks nor the food are particularly cheap. Something we forget pretty quickly because of the magical views given to us. Flair is for sure worth a visit when you visit Shanghai, at least for a drink or afternoon tea.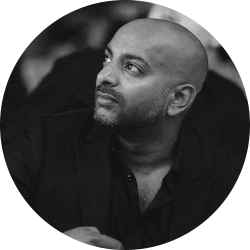 Written by:
Andreas Johansson, for The Rooftop Guide