The rooftop terrace at the luxury Hotel the Serras in Barcelona
Published: July 27, 2016
Lovely view over the harbor.
The Serras Hotel is a small luxury boutique hotel with only 28 rooms. The location is absolutely amazing down at the Barcelona harbor with views over the harbor, all the luxury yachts and the Barceloneta area. This rooftop bar is the only one on a 5-star hotel in the entire city which overlooks the harbor and its surroundings.
The hotel is owned and run by the Serras family, whom is coming from Catalonia. They also have - according to many - one of the best rooftop restaurants in Barcelona.
I had the pleasure to meet Carla Serra who is the marketing manager at the hotel. We had booked the meeting at 6:00 PM downstairs in the lobby to later take us up on the roof terrace El Sueño. Carla gave a lovely and professional impression right away.
I felt well received and well up on the terrace, I got to taste one of the bar's specialties and Carla's favorite cocktail - Mango Colada. The drink was served very festive in a bag and it was the first time I drank a cocktail in this way. The drink tasted excellent by the way!
Mango Colada served in a plastic bag :).
Capucana.
As I got the drink we sat down at a table on the terrace and talked about The Serras Hotel, when it was founded and so on. It turned out that the hotel had opened last year. It was hard to believe that, considering how good and beautiful everything was here.
In the hotel there is a Michelin restaurant and the rooftop bar serves cold dishes from the same restaurant. Not many rooftop bars in the world that can say that they can serve food from a Michelin restaurant to the view of one of the world's most beautiful harbors and the sea.
Cozy terrace
View over the harbor.
Carla was a super nice girl who really took care of us and gave us very good and useful info about both the hotel and its rooftop bar. Exactly the way we want a meeting to be like when visiting the owners of the rooftops around the world.
After our meeting, I stayed at the terrace for a while to enjoy the surroundings. I sat down in one of the lounge chairs under an umbrella and looked out over the harbor. Fantastic! A unique roof terrace in Barcelona and I really recommend you to visit this place if you like exceptional quality and lovely views.
Relaxing by the pool
Unfortunately the weather was not with us that day and most of the afternoon and evening, it was quite overcast. For more pictures with a little sunnier approach, you can check in their rooftop bar here.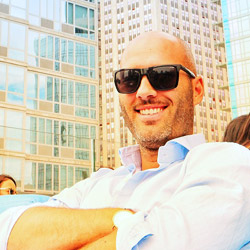 Written by:
Hans Ebenman
- Co-founder, CEO & rooftop expert at The Rooftop Guide