Tapas and Prosecco with premium views over Lisbon and the Atlantic Ocean
Published: August 10, 2017
A wonderful evening at Limão Chill-Out Terrace located at the hotel, H10 Duque de Loulé:
360-view of the terrace
Limão Chill-Out Terrace has one of the best views from a rooftop bar in Lisboa. So, what better place than this, for some Portuguese tapas and drinks. Our table was set at 20:00, the perfect time for both daylight, sunset and darkness.
This roof terrace is quite small, with two smaller VIP tables and some front row seats. In the rainy days (which is very uncommon) there are some sofas under the roof, close to the bar.
We got hold of one of the VIP tables and the view from here was absolutely magical. High up with sea and city view at the same time. Firstly, we ordered a bottle of Prosecco to share and some Portuguese tapas to eat. There was a lot of food. Cheeses, hams, fried seafood, fish, bread and much more. Perfect food for a rooftop bar.
We like when you can sit in a relaxed way in your chair and eat some finger food while gasping out over the city.
The food was good, the Prosecco refreshing and service was spot on all the time. When our stomachs were full and the all the food almost eaten up, we decided to change seats to two of the front row chairs. The last hour, we sat here drinking our Prosecco and enjoying the view. The atmosphere was relaxed and harmonious all the time.
We liked Limão Chill-Out Terrace a lot. Cozy and luxurious at the same time. This is a perfect rooftop bar in Lisbon to bring your date to. It's hard to get a more beautiful and romantic setting than this.
Book your table in advance if you want to be guaranteed a good spot.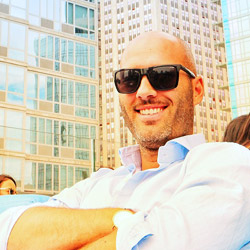 Written by:
Hans Ebenman
- Co-founder, CEO & rooftop expert at The Rooftop Guide