Lovely 360-degree view over Bangkok from Vertigo at Banyan Tree
Review
Lovely 360-degree view over Bangkok from Vertigo at Banyan Tree
4 course dinner with wine and a spectacular view
Published: April 16, 2017
We had been invited by the crew from Vertigo and Moon bar to enjoy a dinner at their fantastic Bangkok rooftop restaurant, perched on the 61st floor of the luxurious 5-star hotel Banyan Tree. After two elevator tours, we reach the rooftop and where meet by breathtaking 360 degree views over Bangkok. Nothing for the ones who are afraid of heights.
We were shown to our table by our host of the evening, Tauch. A very warm welcome and nice addition to the dinner. Tauch took care of us the whole evening and we had some funny and nice conversations with him the whole time.
We had planned for a 4-course set dinner with the wine package. For starters, a tuna ceviche with avocado. And wow! It was super yummie and made to perfection.
The second dish was a mushroom soup seasoned with truffles and for main course we had one fish and one lamb. We shared everything like we always do. My favorite was the ceviche followed by the lamb.
And regarding drinks the red wine was top notch. Fantastic taste and perfect to the lamb.
For dessert we had a classic Tiramisu with coffee and a glass of port wine. The food, wine, cocktails and service was superb. But the best thing about Vertigo & Moon Bar is the breathtaking 360-degree view over Bangkok. Majestic and beautiful at the same time.
Book your table in advance and you'll in for a dinner to remember for the rest of your life!
For more information check out Vertigo & Moon Bar here.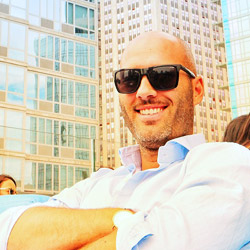 Written by:
Hans Ebenman
- Co-founder, CEO & rooftop expert at The Rooftop Guide