Sunset session at Ruby Bar at Scandic Rubinen in Gothenburg
Published: August 29, 2018
Ruby Bar Gothenburg
An evening filled with cocktails, delicious wraps and a sunset to die for:
If you want a lovely sunset over Gothenburg, Ruby Bar is the place to be. Sweeping city views with the sunset as a mighty backdrop. We decided to visit Ruby Bar during a Friday evening when the party feeling was at its top.
Terrace and view:
We begin with the best part – the view! When stepping out on the terrace you'll be meet by a panoramic city view of the central parts of Gothenburg. Scandic Rubinen as the hotel is called that can boost with this rooftop bar, is one of the tallest buildings in the neighborhood, which gives you great overlook of the area.
The terrace is like a big balcony shaped like a long U. The long area has a great sunset view, and the terrace sides have views over the streets beneath. There are no table reservations here. The seats are on a first come first get basis. A pretty nice way as everyone can get the best seats with a little bit of timing and luck.
We were lucky enough to get a great place with a standing table in the middle of the terrace.
Ruby Bar Gothenburg
Ruby Bar Gothenburg
Ruby Bar Gothenburg
Ruby Bar Gothenburg
Ruby Bar Gothenburg
Drinks and food:
We tried both some signature cocktails, some classics and a lot of beers. Drinks was made to perfection. We tried one with "smultron" (a small strawberry fruit) and pieplant. It was amazing! So fresh and tasty. The beer tasted like beer should do. Cold and refreshing.
You can not eat at the rooftop bar. They only have a small menu with some wraps and snacks. But boy was the wraps good. A Skagen-wrap (shrimp mix) and one with mozzarella and avocado. Surprisingly they were so damn good that we had to have two per person. Don't miss the wraps when having drinks at Ruby Bar.
Ruby Bar Gothenburg
Ruby Bar Gothenburg
Ruby Bar Gothenburg
Ruby Bar Gothenburg
Ruby Bar Gothenburg
Atmosphere:
During weekends, the vibe at Ruby bar is very vibrant and nice. A perfect place for drinks. Later in the evening the volume gets a little higher and the line to the bar a little longer. The only downside with Ruby Bar. The bar line was very long and it took a while to order sometimes. Otherwise nothing to complain about.
Ruby Bar Gothenburg
Service:
The bartenders taking care of us was super good and attentive. Always with a smile and some fun talk. Just like it should be. Kristoffer and his colleague deserves a lot of cred for this.
Ruby Bar Gothenburg
Ruby Bar Gothenburg
Conclusion:
Ruby Bar is a perfect place for an after work or just some evening cocktails. During weekends there's also a great party vibe here. Extra plus for nice sunset and superb wraps.
• Great view
• Sunset to die for
• Attentive service
• Long line to the bar
• Free seating
• Tasty wraps
• Lots of people during weekends
Ruby Bar Gothenburg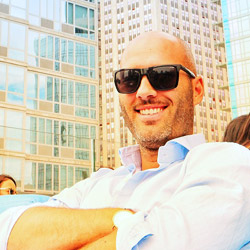 Written by:
Hans Ebenman
- Co-founder, CEO & rooftop expert at The Rooftop Guide