Sunset and ocean view from High at Hotel Erwin
Review
Sunset and ocean view from High at Hotel Erwin
"The best Venice Beach rooftop bar"
Published: July 24, 2017
An evening with magical sunset och ocean views topped with some delicious food and cocktails
High at Hotel Erwin is a very popular rooftop bar in Venice Beach Los Angeles. Therefore, it's always recommended to book your table in advance, if you want to make sure to get a good seat. The pre-booked tables are also the ones with the best possible view.
As we mentioned this is a very popular rooftop, so be prepared to stand in line down by the hotel lobby, before taking the elevator to the top floor. If you have a reservation, it goes much faster by the entrance. If the rooftop is full you can use this map to find the best "rooftop bars near me", for a suitable option.
We came here around 6:30 PM to be able to get both daylight, sunset and darkness. The best time to visit a Venice Beach rooftop bar, because the sunsets are absolutely magical over here. Some of the best you can find. The table was set for us with a view over the Pacific Ocean and parts of Venice Beach.
We began, as we often do – with a signature cocktail while looking at the bar menu, which contained some classic and delicious appetizers. We decided to try all of them.
My favorite was – by far – the sliders (mini burgers). Super juicy and with a soft and perfect bread. We had to ordered a double plate of those.
We also tried the guacamole, chicken tacos, carnitas taco, crab salad, hummus and some different cheeses. All of them served in a nice way and with good flavors. The avocados in California are so good that it's impossible to fail doing a decent guacamole and this one was very good.
Despite the good food, drinks and service – the best thing about this rooftop bar Venice Beach, is the beautiful view over the Pacific and the stunning sunset. We just sat here and enjoyed the view while sipping on our drinks. Relaxation to the max, even though this rooftop has a great party atmosphere with nice music.
So, either if you like to have a romantic evening or party with your friends, High at Hotel Erwin is a good spot to visit.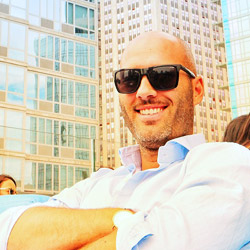 Written by:
Hans Ebenman
- Co-founder, CEO & rooftop expert at The Rooftop Guide