World Cup Sunday brunch at Haven Rooftop
Review
World Cup Sunday brunch at Haven Rooftop
3 hours filled with soccer, food and skyscraper views
Published: July 13, 2018
An afternoon with the popular Sunday brunch at Haven Rooftop Bar. 3 hours filled with soccer, food and skyscraper views:
Haven Rooftop bar is located in Midtown Manhattan close to Times Square. Right in the busiest area in NYC. This creates a nice atmosphere and well up on the roof you can feel the city buzz under your feet. Here's our thoughts on this charming and a little different rooftop in NYC.
Atmosphere and food:
We can begin with our favorite thing about Haven Rooftop – the food! The Sunday brunch have some delicious things on the menu. Or how about a perfectly made smashed avocado sandwich with mozzarella, a nice balanced Huevos Rancheros and the super tasty French Toast with strawberries and blueberries.
That's the three things we had. All was top notch! Specially the French toast. And to this we drank some Coronas. You can find the whole brunch menu here.
The vibe was super chilled and at the same time vibrant as many people here were watching the World Cup game in soccer between Sweden and Germany. There were people in all ages here, but the biggest part was a little younger in the early twenties.
Service and terrace:
The service was as good as the food. In other words – very good. We got a table directly and it was no problem for them to change table after a while so that we could se the game from a better spot. The staff was also very attentive with serving and taking orders. We didn't have to wait for anything at any time.
Unfortunately, it rained a little during our visit here, which meant that the adjustable ceiling was out. So, we couldn't see the beautiful view amidst the skyscrapers in the best way. But here are some pics of what it looks like on a sunny day.
We love a view among the skyscrapers. It makes you feel like you're in the middle of the city buzz, but still with a nice overlook.
The terrace has views in three different directions. The middle part is quite "thin" with some dinner seats. And on both edges of the terrace you can find two bigger areas. One that works as a lounge area with bar seats and sofas and the other with lots of dinner seats. The variety is very nice and you can pic which area that suits you best. We loved the lounge terrace.
Conclusion:
A nice place for a Sunday brunch. I you like tasty food in a vibrant atmosphere, Haven Rooftop is a great choice. Prices are good, service great and the location as central as you can ask for. Book your table in advance – and don't miss the French Toast!
• Nice food
• Relxaed atmosphere
• Fast service
• Sports
• Adjustable ceiling on the rainy days
• Midtown location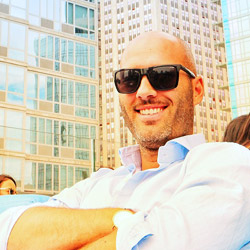 Written by:
Hans Ebenman
- Co-founder, CEO & rooftop expert at The Rooftop Guide