Season premiere and a new concept at "The Rooftop Bar" at Clarion Sign in Stockholm
Published: June 13, 2017
Canapés, Cava, sunshine and premium city views, when Clarion Sign launched their new rooftop concept:
Spring time in Sweden means that rooftop bars located in Stockholm starts to open for the season. Some new ones pop up and older ones launches new concepts and names.
The Clarion Sign Stockholm rooftop bar was no exception. The old name "Spa Bar" is gone and the rooftop is now named "The Rooftop Bar" and has a way better interior and design. Big lounge sofas, nice lounge music and a bar that offers both drinks and smaller bar bites.
The premiere called "Summer Buzz", which will take place more times this year, started at 16:00 and we arrived a couple of minutes later. But we found a very good spot in a lounge sofa right next to the edge of the terrace. We were quite hungry and the delicious bar snacks was a very welcomed thing.
Pizza slices, Pimentos de Padron, chips, chili nuts and so forth. To drink we had some Cava and beers that matched perfect with the food.
During the first three hour's the sun was shining and the atmosphere on the terrace was very nice. The live DJ created a nice lounge feeling and the sun made it feel like I summer evening. Unfortunately, it started to rain around 20:00 and that's when we left the party. But four hours with sun, drinks, food and city views was enough for us.
We had a lovely evening and the new concept at "The Rooftop Bar" is a well welcomed thing to the rooftop scene in Stockholm.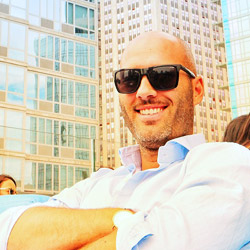 Written by:
Hans Ebenman
- Co-founder, CEO & rooftop expert at The Rooftop Guide