SO Sofitel Bangkok and their amazing rooftop pool
Review
SO Sofitel Bangkok and their amazing rooftop pool
Pool party, skyline views, relaxation and morning swims
Published: April 21, 2017
Pool party, skyline views, relaxation and morning swims. All this at the superb rooftop infinity pool at SO Sofitel Bangkok
There wasn't any secret why we choose to stay at SO Sofitel Bangkok. A hotel with a fantastic Bangkok rooftop pool and one of Bangkok's finest rooftop bars (more about that in next blog post).
SO Sofitel is a five-star luxurious hotel located in the middle of Bangkok near the Lumpini Park.
Upon arrival, we got our room upgraded to SO CLUB, with a superb view from the 27th floor. The room was super nice and big, with a luxurious bathroom and "Club Benefits" (pics further down). I really recommend upgrading your room when staying at this hotel. It's worth every penny.
We checked in already at 7:00 AM, which meant we had a whole day to spend at the rooftop pool. At 8:00 we took the elevator to the 10th floor where the rooftop pool is located. We were the first ones up here which made it feel like we had the whole terrace and pool for ourselves. Super nice and a good time for some nice photos. The wheatear was superb and the sun kept shining on us throughout the whole day.
In the right corner of the pool terrace they had a rooftop jacuzzi overlooking the city skyline. A perfect place for some relaxation in the water. I spent 45 minutes here and almost fell asleep because of the relaxed and quiet atmosphere.
After the Jacuzzi, we found ourselves 2 nice lounge sofa places to chill out in, right by the edge of the pool. In total, we spent almost 6 hours up here before heading out for a late lunch.
Our second day we were invited to attend the annual Songkran Festival pool party that takes place each year during Songkran (Thai New Year). The terrace was packed with people in the ages 20-50 and the loud music echoed over the Lumpini Park and pool area. For those who like a good party, this is a perfect event to come to.
SO Sofitel Bangkok is a magnificent hotel in Bangkok and we really recommend this if you're looking for a place to stay in BKK. You can BOOK YOUR ROOM HERE. The rooms are spacious with a luxurious feeling and with big bathrooms. Ask for a room on a high floor to get most out of the view that the hotel has to offer.
Here's some more info about SO Sofitel Bangkok.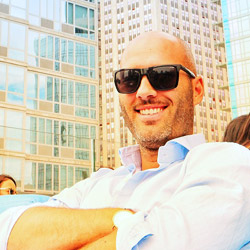 Written by:
Hans Ebenman
- Co-founder, CEO & rooftop expert at The Rooftop Guide