Sirocco & Sky Bar – the first rooftop in Bangkok to disappoint on us.
Published: April 25, 2017
Touristic feeling, lousy service and very expensive drinks - but with a fantastic view:
Sirocco and Sky Bar is well known among tourists because of the famous movie, "The Hangover II" where they had a scene from the rooftop bar. This has brought along a very big interest in visiting the rooftop and take pictures.
The downside with this is that the prices are unreasonable high and the service quite bad. And it's very hard to find a nice seat to relax at. You can stand in the crowded bar looking out over the city. People often ranks it among the best Bangkok rooftop bars, but accordning to us, that's completely wrong. Read why here. And find all rooftops in BKK here.
We came here around 7:00 PM, right after sunset. The terrace was packed with people trying to get nice photos. In the bar area, it's not allowed to take pictures for some strange reason, but you can take pictures above the stairs leading you down to the sky bar.
To be able to visit the bar, you must buy a drink by the entrance and when you have finished it, you can head down to the bar area, where you must buy another drink (very expensive) to be able to stay there for a little while.
I ordered a ginger drink and a beer. Regular taste and nothing special. The atmosphere at the terrace was very touristic and lively. And the waitresses were running around making sure that everybody had ordered something to drink.
The only good thing about Sirocco & Sky Bar was the view. Sweeping views over Bangkok in its surroundings. But there are many better rooftop bars in Bangkok then this. Many people visit this place just because it's like a tourist attraction.
Unfortunately, we cannot recommend this rooftop to anyone, except people who want to say that they have been to the same rooftop bar as in the movie "The Hangover II".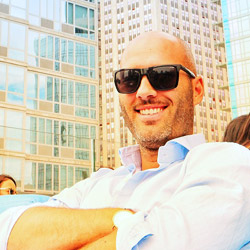 Written by:
Hans Ebenman
- Co-founder, CEO & rooftop expert at The Rooftop Guide