Rooftop premiere at Stureplan's only rooftop bar - Scandic Anglais
Published: June 5, 2017
Sunshine, live DJ, tasty drinks, great atmosphere and superb views, when Scandic Anglais opened up the doors for its rooftop bar together with The Rooftop Guide:
Scandic Anglais together with us at The Rooftop Guide and the event king Olof Göransson, organized the season premiere for one of Stockholm's oldest and most popular roof terraces. With spectacular views of Humlegården/central Stockholm and a weather forecast that promised sunshine, it was set for a perfect night at a rooftop in Stockholm.
The fact that many worked half-day and were vacant the following day did not make it worse either. Already at 4:00 PM, the doors opened and the terrace started to fill with people quite directly.
The roof terrace can hold around 100 people at the same time and there is a long bar, a DJ booth, sofas and a lot of standing places. DJ Marion played some nice tunes while people were enjoying Aperol Spritz, bubbles, beers and rosé wine in the warmth of the sun. A lovely start of the evening, and it didn't take longer than to about 6:00 PM before the terrace was completely filled with people looking for a nice spot and something to drink, among Stureplan's rooftops.
The atmosphere was lovely throughout the evening even at 10:00 PM, when the sun went down and the darkness began to fall on, people were still hanging out at the terrace.
We at The Rooftop Guide really like Scandic Anglais rooftop bar and everything it has to offer. This is the perfect place to visit, both for those who wants to party or those who just want to take an easier "after work". If you want to be guaranteed a seat, it's recommended to come here quite early.
A simple bar menu is also available for the hungry ones, and here you can order classics like hamburgers, Caesar salad, etc.
The annual premiere of Stureplan's only roof terrace was a lovely evening with everything you could expect, and we can really recommend people to come here - both locals as tourists. Now we are looking forward to more summer evenings here in the future! See you at the rooftops!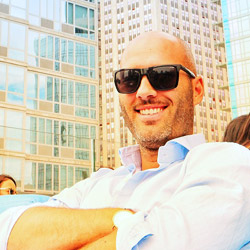 Written by:
Hans Ebenman
- Co-founder, CEO & rooftop expert at The Rooftop Guide