Rooftop pool at Park Regis kris Kin
Published: March 1, 2017
Breathtaking skyline view from the rooftop pool at Park Regis Kris Kin in Dubai.
During our visit in Dubai, we choose to stay at the 5-star hotel Park Regis Kris Kin, because of their superb looking rooftop pool and skyline view. By many considered as one of the best rooftop pools Dubai has to offer.
The hotel is located in north Dubai in the old parts of the city.
The first morning we decided to take a morning dip in the rooftop swimming pool. The temperature in the water was quite cold. Around 20 degrees. Nothing for us Swedes to complain about. The views from here are amazing. Majestic skyline views over Downtown Dubai and sea view to west.
In day two we had some more time on the terrace at Park Regis. The whole midday we spent by the pool and in the sun loungers. At lunch we ordered some pizza and drinks while playing cards at one of the tables at the roof terrace.
A couple of really nice hours that we enjoyed a lot.
Park Regis Kris Kin was a nice hotel. The downside was the location which was a little bit from the city center and also the standard didn't feel like a five star hotel. Otherwise the rooms where big and the price, rooftop pool and view the best things about this place.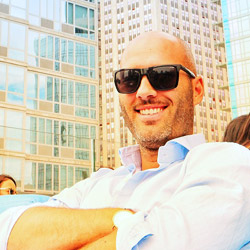 Written by:
Hans Ebenman
- Co-founder, CEO & rooftop expert at The Rooftop Guide