One of Bangkok's best rooftop pools – Hotel Indigo Bangkok
Review
One of Bangkok's best rooftop pools – Hotel Indigo Bangkok
"Swimming with panorama views of downtown Bangkok"
Published: April 20, 2017
To swim in a Bangkok rooftop pool is one of the most harmonious and relaxing things you can do in a big city. Hotel Indigo in Bangkok have one of the best rooftop pools in all of Bangkok. And of course, we had to try it out.
Also check out some of the coolest rooftop swimming pools in this city in this article.
We arrived at the hotel around 2 PM after we got an invitation from the marketing team at Indigo. The rooftop pool is only available for the hotel guests, so make sure to book your hotel nights here if you'd like to take advantage of this amazing infinity pool.
They have nice looker rooms to change to swim wear in and the terrace is equipped with sun loungers, comfy lounge sofas, bar stools and a rooftop bar. We decided to hang out in a large lounge sofa overlooking the Bangkok skyline.
Because the rooftop pool was the main thing about this rooftop, I had to try it out directly. And it was fantastic. Sweeping views, nice temperature, and lots of space. On the right side of the pool, they also have smaller Jacuzzis to relax in.
After we had the first swim in the pool we ordered a couple of refreshing cocktails. Both super delicious and fresh. We had three amazing hours here relaxing in the nice lounge sofa, swimming in the pool and sipping on our cocktails. A perfect way to spend an afternoon in Bangkok.
We loved Hotel Indigo's rooftop pool and for us it's one of the best that you can find in Bangkok. The central location, majestic views and harmonious atmosphere all combined to make this a fantastic place.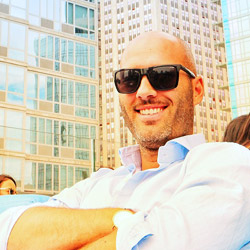 Written by:
Hans Ebenman
- Co-founder, CEO & rooftop expert at The Rooftop Guide