Rooftop pool at day and drinks at night at Upstairs on Ace Hotel Los Angeles
Published: July 28, 2017
We stayed a couple of days at the great Ace Hotel in LA and got plenty of time to enjoy both their rooftop pool and rooftop bar.
We arrived in LA from Las Vegas around 2pm, and we barely checked in before heading up to the rooftop pool on the 14th floor. The rooftop area is called Upstairs and is divided in two, a really nice indoor bar in the middle and then exit to the rooftop pool in one direction and to the rooftop bar in the other
The pool area is lovely, but quite small and with limited amount of sofas and sun chairs. On our first day there was not too much people and after a while we even got the perfect spots in the big sofa. 100% pleasure just hanging, sipping on a beer, snacking on some chips with guacamole (made on amazing California avocado) and the pool just one step away. And, views in all directions over downtown LA.
On other days we were not as lucky. Since it was weekend, and even 4th of July weekend, there was a lot of people up at the rooftop pool so we had to settle for some chilling at the edge of the pool. Not too bad, especially as it got really hot in the sun up at the roof, so nice to keep those feet in the water.
Big plus for the pool area was the free supply of ice cold water to drink and the service of bringing drinks and snacks out to your spot beside the pool.
And then on the opposite side we have the Upstairs rooftop bar. A really nice terrace with a natural feel to it. Wooden tables and leather furniture and a lot of trees and greenery. It is more secluded on one side with blankets working as a ceiling and giving shadow, and completely open towards the sky on the other.
The feeling is kind of like sitting outside in a garden. A garden with great views of the LA skyline. Almost like a LA roof garden.
We were there two nights, the first time we just popped by for a beer before heading out to dinner. Really nice, not to crowded, found a table in the evening sun, perfect unwinding from the day and starting the night up.
Second time we stayed a bit longer and tried some more stuff from the menu. We ordered a bottle of champagne, which was good in itself but this might not the perfect place for champagne. Since there is a pool up on the roof they have to serve everything in plastic (very understandable), but champagne in a plastic carafe and plastic mugs just isn't the same. Probably better to go for something else on the quite generous drink list.
There are some signature cocktails, pitchers of sangria/margarita/mojitos, nice selection of beers and a few whites and reds.
As for food there were some nice snacks to choose from, including Kimchi Pickled Eggs and Oysters. We went for Pork Quesadillas, Charcuterie Plate and chips with guacamole. By now we were addicted to the California guacamole. And of course, this one was great, as were the quesadillas. Top grade for the snacks!
Upstairs is a quite a "hip" place, not the most distinct word, but think it is still the one to use. Works perfectly to stop by for a drink and some snacks if you are in the downtown area, and at night (especially weekend) there was a real party atmosphere with quite a lot of people enjoying the late opening hours.
As for Ace Hotel as a place to stay we really loved it. Apart from the roof facilities we had a great loft room on the 13th floor, including a kitchen, guitar and LP-player.
The restaurant downstairs served a great breakfast (avocado sandwich to die for and also a great granola), cool interior and the staff was super helpful and friendly. Highly recommended!
Granola
Fantastic avocado sandwich!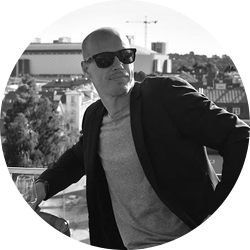 Written by:
Rikard Fredricson
- Co-founder, Creative & rooftop expert at The Rooftop Guide