Two days at the hotel Clarion Sign and their lovely rooftop pool
Published: March 5, 2017
Being able to swim in a rooftop swimming pool overlooking Stockholm's rooftops has always been something we looked forward to. To be able to do it in a heated pool in sub-zero temperatures made things even better.
0 degrees in the air, 33 in the air
Saturday was finally here and we checked into the Clarion around 3 o'clock, to get the most out of our visit as possible. During check in, we're upgraded to a superior room with a lovely view of Norra Bantorget and its surroundings. A nice gesture by the attentive and friendly staff. We threw in our bags, checked out the room and changed directly into swimwear. Time to enjoy ourselfs in the spa area.
Lovely view from the room
Selma City Spa has both a sauna, treatments, a heated rooftop pool, a bar and a small food menu. In other words - most of what you need for a successful spa visit. We ordered two glass of Champagne and went straight to the rooftop pool, which was our primary focus.
The thermometer stood at 0 degrees in the air and 35 in the water, so it was great to jump into the hot water while we drank our Champagne and looked out over the area Kungsholmen and the snow-covered rooftops.
Champagne with a view
Cheers!
Relaxation
A bit more crowded in the evning
After about 30-45 minutes we went back into the bar and ordered some side dishes, to satisfy our hunger. Tasty food and a good complement after the bath. After the food, we took a last sauna and then down to our room again. A good ending to a few pleasant hours.
Sauna
It was quite crowded on the roof terrace during the afternoon and evening, so we set our alarm at 8:30 to get some alone time at the pool. And it was a good idea. The first fifteen minutes we got the roof terrace all to ourselves, which was very nice.
So, if you want some time for yourself on the terrace, it's recommended to come here in early mornings or weekdays when there is a little less crowded on the roof.
Walk on water
Splash!
Nice morning swim
Since it is not directly teeming with rooftop swimming pools in either Stockholm or Sweden, this is one of the best you can find. It is also open all year-round, which makes it even better.
For non-guests at the hotel, you can pay the entrance fee from around $50 to make use of the SPA-area and rooftop pool. Well worth every penny, if you ask us.
Here you can find out more about Clarion Sign in Stockholm and the best rooftop bars in Stockholm.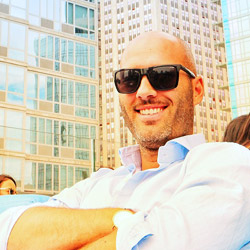 Written by:
Hans Ebenman
- Co-founder, CEO & rooftop expert at The Rooftop Guide