Rooftop swimming pool and delicious lunch at the luxurious Boscolo Exedra Roma
Review
Rooftop swimming pool and delicious lunch at the luxurious Boscolo Exedra Roma
"Luxury and fantastic service"
Published: May 26, 2017
A perfect rooftop bar in Rome if you like luxury and fantastic service
One of the main rooftop events on our trip to Rome, was the lunch and some hangout at the luxurious rooftop swimming pool, at Boscolo Exedra Rome. A famous rooftop - both for events and celebrity's. We arrived here around lunch time to enjoy the fancy rooftop pool and try some specialties from the kitchen.
The swimming pool - ranked by many as one the rooftop pools Rome has to offer - looked so inviting, that we changed to our swimming shorts directly and jumped into the water. We were almost by ourselves in the water and could relax and enjoy the mighty views at the same time.
The pool is quite shallow (no diving) and the water with a little bit colder temperature. Perfect for the warmer days. And it was one of those days. 35 degrees in the sun, made us want to spend the whole afternoon by the water.
After some swimming and sunbathing for almost one hour, we started to get hungry and decided to order some lunch. During lunch, we were well received by the service minded Lorenzo Politano, that took great care of us during the whole stay and lunch.
Lorenzo showed us what service is all about and we felt very welcomed and special. Good service is a thing that makes you want to come back to a place, and we will for sure be back at this rooftop in the future. Much thanks to Lorenzo and his fast, attentive, funny and polite way of taking care of all the customers.
Lorenzo and the kitchen staff got to decide what we were having for lunch. To begin with we got some super tasty snacks (big shrimps with dip sauce) and some drinks. The main course was a Roman pasta with ricotta cheese and tomato sauce. Everything tasted very good.
I ordered one more Aperol Spritz and Lorenzo surprised us by serving one more specialty from the kitchen. A tuna tartar. It was spicy, fresh and a superb way of ending a superb lunch.
Both me and my colleague were happy with everything that we got and we will for sure, be back here next time in Rome.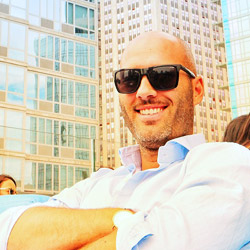 Written by:
Hans Ebenman
- Co-founder, CEO & rooftop expert at The Rooftop Guide