W Hong Kong and one of the world's highest rooftop pools
Review
W Hong Kong and one of the world's highest rooftop pools
Rooftop jacuzzi at the 76th floor
Published: December 9, 2017
A day spent in a rooftop infinity pool and rooftop jacuzzi at the 76th floor, with sweeping city views:
W Hong Kong is a luxurious 5-star hotel in Hong Kong, as with most of the W hotels around the globe. It's located on the Kowloon side right next to the highest building in HK.
When stepping inside the hotel you're welcomed by the service minded and friendly staff. We got our room on an early check in and were treated with chocolate and drinks in the room when arriving. A nice and appreciated gesture by the hotel.
When we had left our bags in the room, we changed to swim wear and took the elevator to the 76th floor to enjoy the rooftop swimming pool.
The rooftop pool:
When stepping out of the elevator on the 76th floor you are met by the staff from W Hong Kong, where you get a towel and sun lounger. We came here quite early and it was also windy this day, which meant that we had the whole terrace for ourselves. The rooftop pool is heated to 28 degrees Celsius and so is the jacuzzi. We swam here for a while and then headed directly to the jacuzzi.
This must be one of the coolest Jacuzzis in the world. The sweeping views over the Hong Kong Island skyline are fantastic.
Food and Woobar:
We had planned a dinner on the rooftop in the evening. But is was to windy to eat up there, so we decided to book a table in the lobby restaurant called Woobar, on the 6th floor instead. The views from here are quite good as well. Maybe not as impressive as the one from the jacuzzi, but still very good.
And the food and atmosphere at Woobar are very good. Live DJs, a loungy feeling, comfortable seats and nice food are some of the benefits down here. We tried some different bar bites such as classic dishes like Club Sandwich, Nachos, spring rolls, mozzarella balls and teriyaki salmon. To this, chines beers and water.
We also tried some very cool signature cocktails. One Tequila cocktail served in a paprika, that was delicious (and strong).
Conclusion:
Only the rooftop pool and rooftop jacuzzi makes it worth staying at W Hong Kong. We can really recommend this hotel to everyone who's going to Hong Kong or live in the city. And the pictures you take from the terrace will be spectacular and Instagram friendly.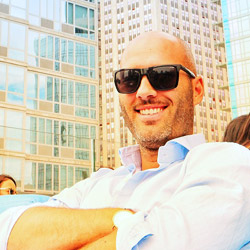 Written by:
Hans Ebenman
- Co-founder, CEO & rooftop expert at The Rooftop Guide