Rooftop jacuzzi and sunset rooftop bar at H10 Montcada in central Barcelona
Review
Rooftop jacuzzi and sunset rooftop bar at H10 Montcada in central Barcelona
"A Christmas Eve to remember"
Published: December 26, 2017
Private rooftop jacuzzi with the Barcelona skyline as a magical backdrop, on Christmas Eve
H10 Montcada is a 4-star Boutique Hotel in the central parts of Barcelona. We stayed here for 2 nights and had two lovely days among sunset views, Jacuzzis and sun loungers.
We were lucky to get an upgrade to a romantic view room on the 8th floor. You could see both the Mediterranean Sea and the city skyline from the room. And from the roof terrace at the 9th floor you get a mighty view over all parts of this beautiful city.
As it was winter in Barcelona the bar was closed, but you could buy your drink from the lobby and bring it up here. The first night we just watched the sunset from here. It was spectacular and very harmonious. We can really recommend it, if you'd like a romantic time before going out for dinner.
The day after we decided to relax in the rooftop jacuzzi. Right after breakfast at 10:00 AM, we bought a bottle of Cava and headed up to the rooftop. The views from here are spectacular. We popped the Cava and made a Christmas toast (it was December the 25th).
As many other families spent their Christmas at home, we hade the whole terrace for ourselves. It felt super luxurious and we sat here for 2-3 hours just watching the view in front of us.
H10 Montcada is a perfect hotel if you want a romantic weekend. The roof terrace is by far the best thing about this hotel. You will get some memorable pictures and experiences up here.
Make sure to try the rooftop jacuzzi. Especially in the morning, as the sun goes around the corner right after lunch time.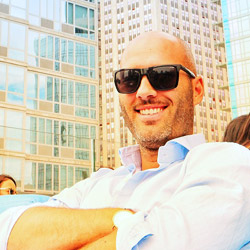 Written by:
Hans Ebenman
- Co-founder, CEO & rooftop expert at The Rooftop Guide