Rooftop brunch at Hotel Atlante Star in Rome
Review
Rooftop brunch at Hotel Atlante Star in Rome
Food, drinks and mighty views of Rome and the Vatican
Published: June 10, 2017
As we had tried both rooftop lunch and dinner during our trip to Rome, it was time to try rooftop brunch as well. The table was set at 13:00 on the beautiful roof terrace at Hotel Atlante Star.
This Roman rooftop bar has a mighty 360-degree view over all of Rome and very close to The Vatican and the famous home of the Pope. We took a long walk to get here, so it was with hungry stomachs and high expectations that we entered the terrace.
As usual we asked for a table in the corner of the terrace and got a nice one, with a superb view. It was us and three more groups of people on the terrace. Funny thing was that one of the companies were from Sweden and they had found info about Hotel Atlante Star on our website.
The brunch set menu was a plate with different small dishes, one main course and one dessert. Regarding the main courses, you could choose from pastas, salads, burgers, club sandwich etc. I decided to drink Prosecco through the whole brunch, while the other ones drank Italian beers.
The platter with different Italian delicatessen, was super tasty. We loved all of them. For main course, some of took the pasta and some tried the tuna salad. The tuna salad was fresh and with a good taste. The pastas were OK, but nothing more. You are quite spoiled with delicious pasta when in Italy, so maybe that's why we were so picky.
And finally, the desserts. WOW! Nothing to complain about here. Gelato, Tiramisu and a chocolate covered ice cream ball. A fantastic way to end a wonderful rooftop brunch in Rome.
With 5 glasses of Prosecco and lots of food in our stomachs, we felt very happy about this brunch. The wonderful 360 views and the very good service didn't make it worse either. We can recommend this rooftop to everybody that's going to Rome in the near future.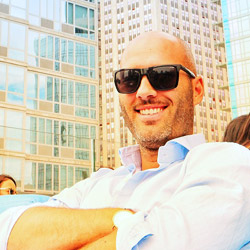 Written by:
Hans Ebenman
- Co-founder, CEO & rooftop expert at The Rooftop Guide