Rooftop bar La Vue at Siam@Siam Design Hotel in Bangkok!
Published: April 13, 2016
Time for some guest bloggers to write at the site again
Suijinant Pessuwan is a 26 year old girl from Thailand, Bangkok. She also lives in Bangkok and have good knowledge of the city and it's rooftop bars. This blog post is from the really cool rooftoop bar La Vue in Bangkok.
La Vue rooftop bar.
Suijinants own experience with her friend at La Vue rooftop bar in Bangkok:
I've tried this rooftop bar once before. The atmosphere and everything around is really awesome. The view from the rooftop bar is outstanding over the Bangkok skyline.
The terrace is located on 25th floor and we could feel the fresh air as well. I ordered the Signature cocktail for me and Watermelon Breeze for my best friend. Such a rich and strong taste. And I also tried the Seafood Pasta, it was terrific and fresh. The staffs was also amazing and treated us very well.
Drinks with a view
Nice cocktails at La Vue rooftop bar.
La Vue is best for a hangout with friends or couples, but it also works well for a family time. I would surely go back to this bar again. If you guys are interested and would like to have a great experience like we had, you have to come here.
And I will guarantee that you will fall in love with the amazing view and overlooking of the city. A relay cool rooftop bar In Bangkok.
You can follow me on Instagram here. Here you can find more rooftop bars in Bangkok.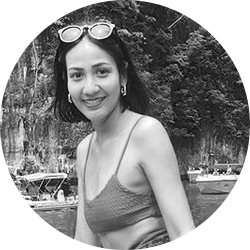 Written by:
Madam Auzzie, for The Rooftop Guide