Luxurious roof terrace and the Rolling Stones-suite - read about our visit to the amazing Aria Hotel in Budapest
Luxurious roof terrace and the Rolling Stones-suite - read about our visit to the amazing Aria Hotel in Budapest!
Published: August 31, 2016
Two nights in Budapest's best hotel with one of the city's best rooftop terraces:
Day 1: The rooftop trip to Budapest - to discover the best rooftop bars in Budapest - was a true spontaneous trip. About two weeks before departure, we booked our flight tickets and after a good contact with the Aria Hotel they could fix a room for us at short notice.
Once at check-in, it turned out that we had been upgraded to the Rolling Stones-suite. A fantastic room with a large balcony, bathtub in the living room, lounge furnitures, mega-large bed, 60 "TV and a super good speaker system. Perfect if you love music.
Rolling Stones suite.
Nice TV and sound system.
After we checked in, we went straight up to the roof terrace High Note Skybar at the hotel. It was about 1:00 PM, so we were really hungry for lunch and some beer.
We sat down in a lounge area on the terrace and ordered some Hungarian and Italian tapas along with some Hungarian beers. Hungary's known for its fine foie gras, and we got into a respective fairly large bowl with foie gras together with some bread.
Everything tasted wonderfully good. Here we sat in a couple of hours and enjoyed the good food, the beer and the magnificent view over the rooftops of Budapest and the surrounding mountains. The roof consisted of two parts where one part was a little more exalted, with a magical 360-degree views of the entire city.
Nice lounge feeling.
Food with a view.
Nice Hungarian beer.
The lounge at the roof terrace.
Rille enjoying.
After lunch we went down to the lobby where served wine and cheese every afternoon between 16:00 to 18:00 the entertainment of various music artists. This day they had a really soft piano bar. Really nice atmosphere. And the cheese and the wine tasted superb in the large lounge furnitures.
Day 2: We set our alarm at 08:00 (despite a quite late night the day before) to get up in time so we had time for both spa and breakfast before 11 AM. At 8:30 we found ourselves at the luxurious spa. Here you could find most thing when it comes to comfort. Or how about a swimming pool, jacuzzil, steam room, sauna, gym, spinning bikes, big lounge furnitures and beds and the possibility of various different spa treatments.
We decided for a quick workout at the gym, followed by a bit of swimming and Jacuzzi bath. After the Jacuzzi we both fell asleep in separate lounge furnitures for about 30 minutes before we finished with a steam sauna. Now we were ready for a full day among rooftop bars and good food in Budapest.
Relax.
After a bit of strolling around town, we met up Médea Kui, that we had booked a meeting with at 4:00 PM in the lobby. Médea is responsible for all communication on the Aria Hotel in Budapest. Here we sat and drank wine and ate cheese while Médea told about the hotel and what is so special about Aria Hotel.
Aria Hotel has been named Budapest's best hotels and also one of the best in Hungary - and we understand why. A unique and cool concept throughout everything, that probably everybody would love. We sure did. Each room here is very luxurious and is also assigned to a musical artist or group.
Our room had the Rolling Stones and the room next to us Jimi Hendrix. The hotel consist of 4 wings, each wing is divided into a certain style of music. In addition to the luxurious spa, rooftop and the lobby, there's also a really cool library as well as a lobby bar with super-cool interior. You understand why lots of celebrities and artists choose to stay here.
Good meeting with Médea Kui.
Our last night in Budapest ended up on the High note Skybar where we tested some of the rooftop bar special cocktails. Evenings were a lot more crowded here, which created a really nice atmosphere. To be certain of a place it is recommended to book a table in advance.
Cool sunset.
Aria Hotel belongs to Library Hotel Collection, which also has 4 hotels in New York, one in Prague and one in Toronto. Where some of the hotels also have really nice rooftop bars. Medea was a wonderfully nice girl who took good care of us during the entire stay. We could not be happier with the reception and all the info we got to the hotel, and the rooftop bar.
If you ever want to go to Budapest, it is a must to stay at the Aria Hotel. A fantastic holistic experience.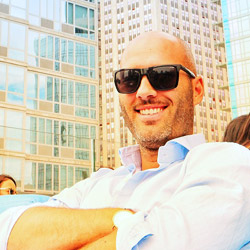 Written by:
Hans Ebenman
- Co-founder, CEO & rooftop expert at The Rooftop Guide