The famous Two Rooms Grill | Bar in Tokyo
Review
The famous Two Rooms Grill | Bar in Tokyo
"Views to die for in a vibrant and trendy atmosphere"
Published: September 20, 2018
Sunset views to die for in a vibrant and trendy atmosphere. Read more for full review!
Two Rooms Grill | Bar is one of the fanciest rooftop bars throughout Tokyo. In fact, the biggest city in the world doesn't have that many rooftop bars as you can expect. Older buildings and cold climate in the winters are two reasons for this.
We visited one of the best rooftops in Tokyo in the middle of summer. And boy, it was warm.
Two Rooms Grill | Bar is located on the 5th floor, but still possesses a great skyline view of the surrounding skyscrapers. The terrace lays in the area between Shinjuku and Shibuya. Two of the most visited and famous areas in Tokyo. So, the location is perfect for tourists.
And this rooftop bar has a clientele mixed with western tourists and well dressed and trendy people living in Tokyo. Make sure to dress for success to feel at home here.
People in all ages gather here to enjoy the views, the fancy cocktails and the vibrant atmosphere. A live DJ in the corner of the terrace makes sure that the party feeling is great during all hours. A little calmer in the afternoon and more party in the evening. Like it should be.
We tried a couple of signature cocktails and some Champagne. Everything tasted delicious. The service was also spot on. We never had to wait to order and the staff always meet us with a smile. Typical for Japan. Everyone here was super friendly and respectful.
From looking at the pictures, you may think that Two Rooms Grill | Bar is located on a high floor. Even though the terrace is perched on the 5th floor, you still get a great view of Tokyo from up here. And the sunset from here was magical.
If you decide to visit this rooftop bar, make sure to time a sunset and reserve your table on the terrace in advance. The popularity is super high, and most people end up in the inside area because of the popularity of the terrace.
Two Rooms Grill | Bar is well worth a visit. The price tag is very high, so expect to spend some cash if your looking for a place to party or just having some evening cocktails at. On the other side, you will get some amazing pictures and have a party evening to remember for a long time.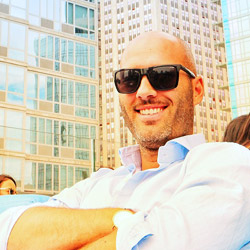 Written by:
Hans Ebenman
- Co-founder, CEO & rooftop expert at The Rooftop Guide