Review
The Skylark in NYC
"Perfect vibe and skyscraper views"
Published: July 11, 2018
One of our favorite rooftop bars in New York. The vibe and skyscraper views were perfect:
We decided to visit The Skylark for some evening drinks and bar bites. Our table was set at 8:30 PM, just before darkness started to fall over Manhattan. When we stepped out on the terrace we were met by mighty skyline views and a party vibe that got us going directly.
Vibe and view:
As mentioned before, the view from up here is fantastic. A little different from many other rooftop bars in New York. Here, you'll get a feeling of being right in the middle of the skyscrapers.
The Skylark is located near Times Square among all the high-rise buildings. This creates a special view which is quite hard to find in most cities. You can also see the famous Empire State Building on one side of the terrace.
If you're looking for a vibrant atmosphere in a party friendly environment, this is a great rooftop bar in NYC to visit. You'll notice right away when stepping out of the elevator, that this rooftop is very popular for people looking for a rooftop party or some cocktails before heading out in the New York night.
Loud music (not to loud to speak) and a nice buzz from all the people creates a lively vibe all over the terrace. You should expect a crowd between 21-40 here.
The Skylark also have an indoor area where you can eat, drink and play pool. Perfect if the weather is bad or during the winter.
Food, drinks and service:
This is no fancy restaurant where you'll sit down and eat a quite meal. Here, you do best in ordering some sharing plates to your drinks. There's a great menu with lots of different plates to choose from. You can find the whole menu here. The only bad thing with the menu was that it consisted in too much good things. We wanted to try everything.
We decided to share a bottle of Prosecco and some sparkling water. The Prosecco worked perfect to the sharing plates and also as a pre-dinner drink and after dinner drink.
When entering The Skylark, you're met by the hosts right outside of the elevator. It's advisable to book your table in advance, as the rooftop is super popular and almost always full. Service was attentive and good. Just what you should expect from a popular place.
Conclusion:
We loved The Skylark! One of our favorite rooftop bars in NYC. The vibe was amazing, the view spectacular and food super tasty. A "must visit" when in NYC.
It's recommended to come here around 7:30 PM to get both daylight, sunset and darkness. The views and pictures you'll get will be fantastic among the skyscrapers.
• Skyscraper views
• Superb food
• Vibrant atmosphere
• Indoor area available
• Younger crowd
• Midtown location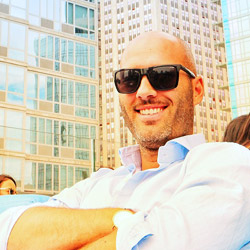 Written by:
Hans Ebenman
- Co-founder, CEO & rooftop expert at The Rooftop Guide