The Roosevelt Hotel and their rooftop bar Mad46
Review
The Roosevelt Hotel and their rooftop bar Mad46
"Iconic hotel with one of the best afterwork vibes"
Published: June 29, 2018
A classic and iconic hotel with one of the best afterwork vibes from a rooftop in Midtown Manhattan:
The Roosevelt Hotel is one of the most classic hotels in Midtown Manhattan. And the same goes for their rooftop bar called Mad46.
Both the hotel and rooftop have a old and stylish touch and feels very "New Yorkish", in a very positive way. We decided to spend two nights here and one full evening at the rooftop bar. Here are our thoughts.
View and vibe at Mad46:
One thing we noticed directly when entering the roof terrace was the great atmosphere. Lot's of people coming from work to grab something to drink, which created a nice afterwork vibe. We were here during a Thursday between 7 PM to 10 PM and the rooftop was fully packed with people the whole time, which is an evidence that many people likes this place.
The view from the terrace might not be the best in NYC. But still very cool as you are surrounded by skyscrapers in all directions. And you'll get a lovely sunset if you lucky enough to come here on a sunny day when the sun sets.
Food and drinks:
If the vibe is one of the best things about Mad46, the food is equally good. WOW! We tried some tacos, sliders, pizza and guacamole. The tacos were delicious. Both in taste and presentation. Perfectly spicy and easy to eat. The mozzarella pizza had a great taste and texture, and the same goes with the sliders and guacamole. Don't miss the food if you decide to visit Mad46.
Cocktails were also made with love and a fresh taste. We only tried two cocktails and some beers. Nothing to complain about. Worked very well to the food we ordered.
Hotel and service:
We stayed two nights here. And we were lucky enough to get a corner room with view of both 46st street and Madison Avenue. The location of the hotel is perfect. Close to both Central Park, 5th Avenue, Times Square and Rockefeller Center. All within a short walking distance.
When entering the hotel, you will notice a massive and classic lobby. It almost feels as you are in a classic New York movie.
The rooms are nice and classy. Not super modern or very luxurious, but with a classic touch. All rooms are equipped with a big screen TV and a well filled mini bar.
We were very pleased with the great service we received from the staff working here. Everything from the check in to the people helping with taxis or carrying your bag. Always with a smile and nice manor. Just don't forget to give them tips after helping you.
Conclusion:
We can recommend this hotel and rooftop bar to everyone going to NYC. The price to stay here is better then many other hotels in New York. And the value you receive is well worth every penny.
If you want closeness to many famous attractions and monuments, the location of The Roosevelt Hotel is ideal. Mad46 Rooftop Bar is perfect for an afterwork and like we mentioned before, the food is superb.
• Classic
• Afterwork
• Great food
• Good service
• Best location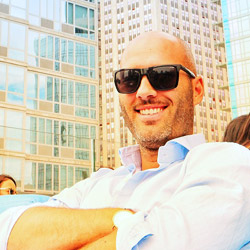 Written by:
Hans Ebenman
- Co-founder, CEO & rooftop expert at The Rooftop Guide