L'Oiseau Blanc and Le Rooftop at The Peninsula Paris
Review
L'Oiseau Blanc and Le Rooftop at The Peninsula Paris
"One of the best luxurious rooftop restaurants in Europe"
Published: June 10, 2019
4 course dinner and drinks at one of the best and most luxurious rooftops in Europe. Check out our full review here:
L'Oiseau Blanc and le Rooftop at The Peninsula Paris is the perfect rooftop if you're seeking for an evening with luxury, quality and harmony. We decided to try both a full course dinner at the restaurant and some evening cocktails on the roof terrace. Everything was top notch!
THE ROOFTOP RESTAURANT
L'Oiseau Blanc is one of the best rooftop restaurants we've reviewed through out the years. The service up here is as good as it can be. One waiter that presented every dish for us and one waiter that served and talked about all the wines.
Regarding the food every dish was great. Presentation and taste were spot on. Nothing to complain about. We let the pictures speak for themselves.
SWIPE FOR MORE FOOD AND DRINK PICS
The restaurant is located inside with glass in every direction. The décor is stylish and classy where all dinner seats has a great view over the city with the Eiffel Tower as a mighty backdrop. Hard to find a more romantic setting!
L'Oiseau Blanc is very popular and it's advisable to book your table at least a couple of months in advance.
THE ROOFTOP BAR
Le Rooftop is located on the same floor as the rooftop restaurant. The rooftop bar is an outside terrace equipped with large lounge sofas to hangout in. The view over the city is amazing from up here. Especially during the evening when the Eiffel Tower lights up in a sparkling spectacle. So beautiful!
All seats up here are drop in seats that cannot be booked in advance. In other words, all seats are up for grabs. If you're here in good time, you'll get a great spot on the terrace. Perfect for pre-dinner drinks or evening cocktails.
The comfy lounge sofas and spectacular views is enough to give you a great night to remember. And make sure to time a sunset, as they are magical over the city from up here.
OTHER INFO
They also had a small secluded area on one terrace, which is located one floor higher than the large roof terrace. That surface was maybe 30 square meter and it can be rented and for private dinner with your own chef and special menu. You can even get your own violinist to add to the romantic feeling, etc.
This concept is very popular, and this private terrace is usually booked about 5 days a week.
CONCLUSION
Four word's is enough to describe the rooftop bar and restaurant: "We love this place!". If your looking for a great rooftop experience with most one can ask for, The Peninsula Paris is a must visit. The price tag is quite high as you can expect, but totally worth every penny. A memory for life!
Address: 19 Avenue Kléber, 75116 Paris
• Luxurious
• Rooftop bar and restaurant
• Classic decor
• Amazing view
• Top notch service
• Expensive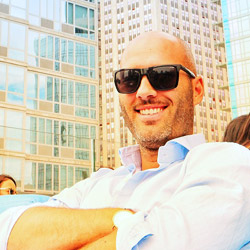 Written by:
Hans Ebenman
- Co-founder, CEO & rooftop expert at The Rooftop Guide