The Roof at Viceroy Central Park
Review
The Roof at Viceroy Central Park
"Premium Central Park views in a lively and nice atmosphere"
Published: June 18, 2018
The Roof has one of the most unique and beautiful views in NYC. When entering the terrace, you'll be amazed by the grand venues of one of the most iconic city parks in the whole world. As with many other New York rooftops, the atmosphere here is pretty lively. Specially during the weekends.
View and atmosphere:
Both the view and atmosphere are top notch here. Like mentioned earlier, the view is amazing. So nice to be able to have a drink while gasping out over Central Park and the surrounding skyscrapers. The sun shines perfect over the park and buildings which creates a superb venue to look at.
The roof terrace has a ceiling, so there are plenty of seats in the shadow if you think is to warm to sit in the sun.
The Roof opens at 3:00 PM on weekdays and 1:00 PM during weekends. During afternoon and early evening there's a classic afterwork atmosphere with many people coming directly from work to grab a drink. And later on, there's a more lively vibe with more focus on party.
For us, it was perfect to spend some time here between 5-7 PM. Expect a trendy crowd and lots of after workers.
Drinks and seats:
We tried some signature cocktails like "The Roof Gin & Tonic" and some classics like Moscow Mule. Drinks were ok. Nothing special, but like they should taste. Nothing more, nothing less. When paying between $19-23, you could maybe expect some more effort. For the hungry ones, there's a menu consisting in some classic bar bites and share platters.
We love to hang out in the bar, and the bar has a magnificent view. The fact that you also sit on higher chairs, you'll get a better view. Many other seats here are comfy sofas with tables. However, these seats have there back on the view. Nice for pictures, but less good if you like to gasp out over Central Park while sipping your cocktail.
Conclusion:
The best thing about The Roof at Viceroy, is definitely the amazing view over Central Park. Drinks, atmosphere etc is like many other rooftops here. We can recommend this rooftop the everyone going to NYC. You will get some wonderful pictures and a night to remember for the rest of your life.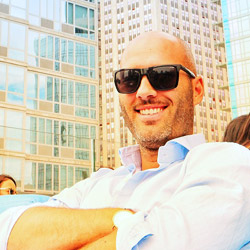 Written by:
Hans Ebenman
- Co-founder, CEO & rooftop expert at The Rooftop Guide