Review
The Press Lounge in NYC
"Best skyline views on Manhattan"
Published: July 19, 2018
Panoramic skyline views in a trendy atmosphere. That's how you can explain The Press Lounge with a couple of words
The Press Lounge was one of the first rooftop bars we scheduled to visit during our rooftop-trip to NYC. We've been here before and absolutely love this place. The skyline views from here are spectacular. Probably the best ones you can find on Manhattan.
The rooftop bar is located on the 16th floor of the luxurious hotel Ink48 Hotel (a Kimpton hotel).
We decided to visit The Press Lounge at 6:00 PM, to get some afternoon drinks in the warm New York sun. It was on a Sunday afternoon which meant a little calmer atmosphere, which is always a nice thing on a Sunday.
Terrace and view:
When stepping out of the elevator on the 16th floor and out on the terrace, you'll be amazed by the grand and mighty view. Panoramic skyline views in one direction and sunset views over The Hudson River in the other direction. It was as good as we remembered it. Jaw dropping in every aspect.
The staff welcoming us was super friendly and showed us to our table in the corner of the terrace. We were lucky, this is the best table on the terrace with views to die for.
The terrace is very spacious with lots of seats and areas to hang out at. There's one large indoor area for the colder and rainy days, equipped with lounge sofas and tables. Looks super cozy.
The main outdoor area is very big and have a small pool (not for swimming) in the middle. Around the pool you'll find lounge furniture's, tables and sofas. Perfect environment for some cocktails and bar bites.
I also got a private tour on the terrace and were shown to a "rooftop garden" which you can rent for private dinners and events, for up to 2-25 persons. You can find more info and book this area here.
Inside terrace
Area for private events
Atmosphere and service:
If the view is the main thing here, the atmosphere is surely the second best. We love the vibe at The Press Lounge. Perfectly "loungy" but also suitable for a pre-party.
This rooftop bar attracts a trendy crowd with a mix of both locals and tourists. The chilled-out background tunes create a harmonious feeling, but still with a vibe that also suits the guests that are more in to partying.
The service here is great. Just as you should expect from a place like this. We never had to sit with empty glasses and our waitress was looking after us the whole time making sure we weren't short on anything. Extra plus for that.
Food and drinks:
Both the food and drink menu are quite small with a few things to choose from. The things here are made with love and it's always nice to try new cocktails and dishes. For us, this is a positive thing as you're forced to try new things.
If you're looking for your favorite cocktail or dishes that you always drink, you may fall short. But if you ask kindly, I'm sure you can get some classic cocktails as well.
We tried the cocktails called Corriere, Expo and Bazaar. Well-made and very refreshing. You can find the whole drink and food menu here. We also tried some of the sharing plates. The Pretzel and house made Hummus were superb! While the cheese and salumi plates were quite ordinary.
House-made Hummus
The Pretzel
Cocktail with a view
Conclusion:
What can we say… We love The Press Lounge! When visiting New York, it's a "must thing" to visit this rooftop bar. The views and pictures you'll get from here are amazing and will for sure give you a memory for life.
• Best skyline views on Manhattan
• Beautiful sunset
• Good service
• Trendy crowd
• Area for private events
• Midtown east location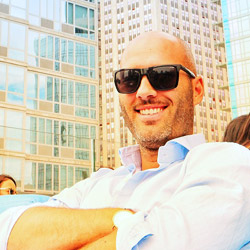 Written by:
Hans Ebenman
- Co-founder, CEO & rooftop expert at The Rooftop Guide