The Marmara Pera Hotel and Mikla Rooftop Bar
Review
The Marmara Pera Hotel and Mikla Rooftop Bar
"Amazing rooftop swimming pool"
Published: September 21, 2018
Amazing rooftop swimming pool, nice suites but with a bad service
The Marmara Pera is a luxurious hotel located in the Taksim area, with beautiful views of the city, the Bosporus and the surroundning areas. We decided to stay here for three nights to enjoy the suites and the fantastic roof terrace. Here it follows:
The Rooftop bar and pool:
The best thing about The Marmara Pera Hotel is the amazing roof terrace. Up here you'll find a swimming pool and some nice lounge furniture's like sun loungers and big sofas. This area is only available for the guests of the hotel.
So, make sure to book your hotel nights here to be able to spend some time in the sun while gasping out over the skyline and the beautiful Bosporus.
The rooftop bar and restaurant are however available for outside guests as well. The restaurant is an upscale type of restaurant with a famous chef making food of highest quality. If you're only looking for a drink, that's fine too. You won't be disappointed by either the view or the cocktails.
Dress neatly, and you'll fell right at home here.
The rooms:
We wanted to try the suites located on the 14th floor (just under the rooftop). We booked 2 suites and they were fantastic. For being such a good hotel, the suites here come with a very good price. And you can fit 3 persons in a suite with out any problem.
All suites are equipped with a small jacuzzi tub in the bathroom, 1 king size bedroom and a living room with a big sofa. The whole suit has big windows with views in almost all directions. Breathtaking both in daylight and during the night.
Service and breakfast:
Unfortunately, these are the two worst things about this hotel. We can begin with the service. Like many other places in Istanbul, the service is not so good. Never a smile and never that little extra. Sometimes they didn't even say hello when you tried to say hi to them in the reception.
Breakfast was also one thing that we had higher expectations on. Not that many things to choose from and the things available were nothing more then medium. Maybe we sound picky, but you should expect more from this kind of hotel.
Conclusion:
If you like a good rooftop pool and a fancy rooftop bar, The Marmara Pera is a great choice. Book the suites if you like to stay classy with a good price tag. And don't expect to get good service.
• Great roof terrace
• Nice suites
• Bad service
• Boring breakfast
• Central location
• Fantastic view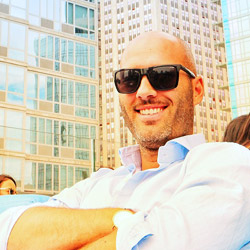 Written by:
Hans Ebenman
- Co-founder, CEO & rooftop expert at The Rooftop Guide