The Heights at Arlo Nomad
Review
The Heights at Arlo Nomad
"Skyline views in a vibrant atmosphere"
Published: July 4, 2018
Skyline views and tasty guacamole in a vibrant atmosphere at Arlo Nomad:
The Heights at Arlo Nomad is a quite new rooftop bar in Midtown Manhattan. This place is well visited by both a younger and older crowd. Already at noon the terrace starts to fill up with people trying to get a drink.
The sun shines on the terrace for almost the entire day and it's adivsable to come here early if you want a seat in the big and comfortable lounge sofas.
Terrace and view:
The roof terrace is equipped with standing tables, sofas and some stools. When stepping out of the elevator and out on the rooftop, you'll be amazed by the mighty views of Midtown Manhattan. You get views over both the skyline, Hudson River and with the Empire State Building as a beautiful backdrop.
And, Arlo Nomad is nothing for people with fear of heights. By the edge of the terrace there's a glass floor where you can see all the way down to the busy New York streets. See movie to see what we mean.
Drinks, atmosphere and service:
One cool thing they have at The Heights is the "Froze". And just like the name suggests, this is frozen rosé vine. I must say that I was a bit skeptical in the beginning, but this was actually super good. Refreshing and tasty.
They don't serve any food up here, except some fantastic guacamole, salsa and chips. Perfect if you like to drink beer and eat snacks.
We were here in the afternoon from 2:00 PM. The atmosphere was quite relaxed the whole time. But we can imagen that the vibe becomes more lively the later the hour gets. You don't have to dress for success to feel at home here. Jeans and T-shirt works fine. The crowd varies from younger party peps, to tourists just wanting to grab a drink and take a picture.
The service was good. Nothing more, nothing less. What you should expect as a customer.
Conclusion:
A simple rooftop bar in Midtown Manhattan. Perfect place if you just want some beers and snacks with a view. And the view is amazing among the skyscrapers.
• Great guacamole
• Mixed ages
• Nice view
• Simple decor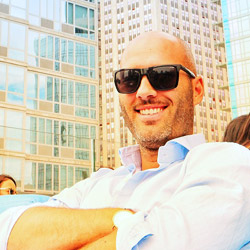 Written by:
Hans Ebenman
- Co-founder, CEO & rooftop expert at The Rooftop Guide