The Crown Rooftop at Hotel 50 Bowery in NYC
Review
The Crown Rooftop at Hotel 50 Bowery in NYC
"The most magnificent view"
Published: September 26, 2019
Full review The Crown Rooftop at Hotel 50 Bowery in NYC
The Crown Rooftop is perched on top of the trendy hotel called Hotel 50 Bowery which is located at Lower Manhattan in China Town. Up here you'll get an amazing view over both midtown and downtown. And when the sun sets over the Hudson River, it's a view you'll never forget.
VIEW AND ATMOSPHERE
Actually, you don't have to say much about the view from up here. We let the pictures speak for themselves. But it's amazing! Specially during the sunset. And that's the time we recommend coming here. The vibe is great and the pictures and Instagram moment you'll get are great.
During the weekends the vibe is more vibrant, and people come here to party. There's also an inside area for the rainy and colder days. During weekdays and some special weekends, the atmosphere can be more calm och relaxed. So, it depends on which mood you're in when planning your visit at The Crown Rooftop.
DRINKS AND FOOD:
We would recommend ordering some sharing plates to your drinks up here. There are several classics to choose from. Tacos, sliders (mini burgers), fish tacos, skewers etc. Our favorite was the sliders. Great taste and structure.
For drinks they also have most of the classic's cocktails and some signature ones. We tried some classics like Moscow Mule and Negroni. Taste and looked like they should. We also tried some beers on tap and white wine. The beers worked great with all the food.
CONCLUSION
At The Crown Rooftop almost everything is about the magnificent view. You'll be amazed when stepping out on the terrace. Make sure to time the sunset. Extra plus for the inside area during rainy and cold days. We also liked the food and drinks. In other words, we can recommend this rooftop bar to everyone visiting New York!
Address: 50 Bowery, New York, NY 10013
• Amazing view
• Party vibe
• Good drinks and food
• Beautiful sunset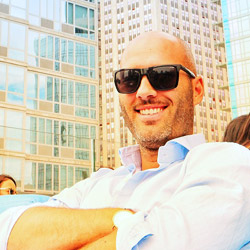 Written by:
Hans Ebenman
- Co-founder, CEO & rooftop expert at The Rooftop Guide