Terrazza Rossini at Hotel Kraft in Florence
Review
Terrazza Rossini at Hotel Kraft in Florence
"A classic and cozy roof terrace"
Published: June 12, 2019
A rooftop bar in Florence that works great for both breakfast, lunch, dinner and cocktails.
Terrazza Rossini is located on the 7th floor of the classic hotel called Hotel Kraft right by the Arno River. The terrace is divided over 2 floors with one large terrace for dinner guests and one floor above you'll find the rooftop pool and sun deck. Read our full review here:
THE ROOFTOP BAR AND RESTAURANT
As we stayed at the hotel, we had the luxury to be able to eat our breakfast on the terrace every day. A perfect way to start the day with beautiful city views and delicious breakfast. The terrace is equipped with a lot of seats. Both tables, chairs and more comfy lounge chairs.
Breakfast
Big and spacious terrace
We also had our lunch up here one of the days. A 3-course lunch with antipasti, primi and dolce. We tried some buffalo mozzarella, prosciutto, antipasti mix plate, pasta ragú, salmon pasta and the tiramisu.
A great lunch with many fantastic flavors. And to complete this fantastic lunch we had a white wine from Tuscany to drink. Perfect in the warm spring sun.
SWIPE FOR MORE FOOD AND DRINK PICS
THE ROOFTOP POOL AND SUN DECK
One floor above the bar and restaurant you'll find a smaller terrace with a rooftop swimming pool and a large amount of sun loungers. A perfect place for some relaxation and swimming. The pool is heated and with a view over Florence in two different directions.
You can find sun loungers in every corner of the terrace. The best ones are placed under sun protection with views over the city and all its famous monuments. You can't get tired of this amazing view and buildings.
You must be a guest of the hotel to be able to swim in the pool. But you can relax in the sun loungers as an outside guest.
Heated rooftop pool
Sundeck
CONCLUSION
Hotel Kraft has a great rooftop pool and is the perfect venue for a long wine lunch or some afternoon cocktails. Book your stay at the hotel to experience the complete package. We can recommend Terrazza Rossini to everyone that are visiting Florence during the warmer months.
Address: Via Solferino, 2, 50123 Firenze
• 2 terraces
• Rooftop bar and restaurant
• Classic decor
• Historical view
• Rooftop pool
• Sundeck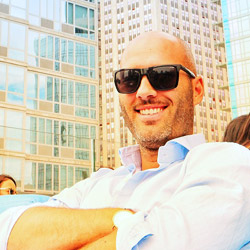 Written by:
Hans Ebenman
- Co-founder, CEO & rooftop expert at The Rooftop Guide