Review
Silk Club Lisbon
"One of the best rooftop restaurants in Lisbon"
Published: April 10, 2019
Check out our new review of Silk Club. Superb food, great service and a beautiful view.
Silk Club is a trendy and luxurious rooftop with an excellent restaurant, that turns into a more vibrant party place during later hours. Read our full review here:
THE TERRACE AND VIEW
The outside rooftop is quite small, but with an amazing view over Lisbon and the river/ocean. Out here you can find seats for around 15-20 persons. So, get here in time if you like to sit outside. These seats are however only for drinking.
If you like to eat, you'll find them inside. During the warmer months the doors are open from the inside area to the terrace, which makes it feel like you're outside but with a roof over your head.
If you time your visit during a sunset (which is preferable) you'll get a magical view and some great photo opportunities. Lisbon during evening light is something special.
FOOD AND SERVICE
The view might be great, but the best thing about Silk Club is the fantastic food. WOW! If you like upscale Asian food, this is heaven. The menu is very big and consists in both warm and cold dishes influenced by Asia. The sushi and sashimi are top notch.
Also, extra plus for the delicious desserts. We tried at least 6 different desserts. And I can say that all of them were super yummy. The wine list up here is very good to. We tried some different white wines from the finest wine district in Portugal. Matched perfect with the food.
At these kinds of restaurants, you can always expect great service. And Silk Club is no exception. The waiters and hosts took care of during the whole evening. Fast, attentive and always with a smile.
CONCLUSION
There are no downsides with Silk Club. One of our favorite rooftop bars in Lisbon. The view, food and service are as great as they can be. We can truly recommend this place to everyone that's visiting Lisbon. You won't be disappointed.
Address: 14 Rua da Misericordia, Chiado, Lisbon
• Fantastic food
• Rooftop bar and restaurant
• City and ocean views
• Both indoor and outdoor
• Great service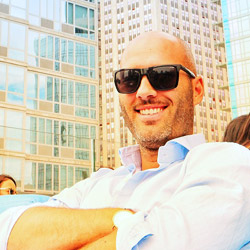 Written by:
Hans Ebenman
- Co-founder, CEO & rooftop expert at The Rooftop Guide