SEEN Restaurant and the Avani+ Riverside Bangkok Hotel rooftop pool
Review
SEEN Restaurant and the Avani+ Riverside Bangkok Hotel rooftop pool
"Great atmosphere and food"
Published: May 27, 2019
An afternoon and evening filled with swimming, sunbathing and a rooftop dinner with amazing view. Enjoy!
Avani+ Riverside Bangkok Hotel is a 5-star luxurious hotel in Bangkok with both a rooftop infinity pool, a rooftop lounge and and classy rooftop restaurant. We tried all of them during an afternoon/evening. Here's our review!
SEEN ROOFTOP RESTAURANT
SEEN Restaurant is a newly renovated rooftop that was called Attitude last year. SEEN is an international concept with rooftop bars in both Lisbon and Sao Paulo to name a few. All SEEN rooftops are classy, luxurious and with great food and a lively vibe. SEEN Bangkok is no exception.
The view from here is spectacular. Sweeping skyline views over the river and the city skyline far away in the horizon. The location is a little outside the city which creates a unique and unusual view compared to most other rooftop bars in Bangkok.
It's most beautiful just when darkness is about to fall, as all skyscrapers gets that beautiful light that you only get during a couple of minutes each day.
The restaurant is superb. Both food and drinks are well made and there're several good options to choose from. We tried some classic sharing plates which all tested very good. Beef carpaccio, swordfish carpaccio, lobster taco and a couple of sushi plates.
We also tried two different desserts. But they where a little to big for our liking. Still good taste.
SWIPE FOR MORE PICS OF THE FOOD
We were here quite early as we wanted to catch the sunset. During the early hours the vibe is a little bit calmer and sophisticated. But as soon as darkness falls the DJ starts to play and the vibe gets more and more vibrant. The big bar creates a nice feeling and there are several different seats available here. Bar stoles, lounge furniture's or classic dinner tables by the edge of the terrace.
Unfortunately, we had to leave before 9:00 PM to catch our flight. But during the later hours, there's another big terrace one floor up from the restaurant where the party gets started. Up here the atmosphere is livelier, and you can reserve your drinking tables in advance to be able to guarantee a spot.
Next time we're in Bangkok we'll definitely be back for this.
THE ROOFTOP POOL AND LOUNGE
The rooftop pool area is quite big. And it must be. This place gets crowded almost every sunny day. A little to much people for our liking.
Even though it's only available for the guests of the hotel, there are many persons up here and sometimes you have to stand in line to get a sun lounger. It took us 30 minutes to get ours. But in the meantime, we could wait in the lovely rooftop lounge just between the pool area and restaurant.
The lounge is equipped with comfy sofas and furniture. All placed so that you get a great view of the skyline. A more relaxed and calmer place than the pool area.
The pool is a long infinity pool with views over the river and city. The corner spot is very popular for people wanting to take great pictures from the visit. We also had lunch by the pool, where we tried the SEEN Burger. And wow, it was super delicious. A must try if you like burgers (like us).
Otherwise there are several nice alternatives to choose from like classic bar dishes and sharing plates.
CONCLUSION
SEEN Restaurant is a great rooftop restaurant in Bangkok if you place high value in good food and vibrant atmosphere. The location is a little bit off, but on the other side it creates a unique view of the city and river. We can recommend SEEN to everyone!
Address: 285/5 Phuttha Monthon Sai 2 Soi 11, Khwaeng Bang Phai, Khet Bang Khae, Krung Thep Maha Nakhon 10160
• Greatinfinity pool
• Rooftop bar and restaurant
• Crowded pool area
• Great vibe
• Superb food
• Party friendly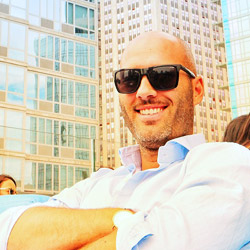 Written by:
Hans Ebenman
- Co-founder, CEO & rooftop expert at The Rooftop Guide