Rooftop @ 1WLO in Fort Lauderdale
Review
Rooftop @ 1WLO – the only rooftop bar in Fort Lauderdale
"The only true rooftop bar in the city"
Published: April 17, 2018
Sunny weather, trendy people and delicious food at Rooftop @ 1WLO:
When we heard that Fort Lauderdale only had one rooftop bar available, we decided to take the car 1-hour drive from Miami to check it out. And we wouldn't be disappointed with our visit at Rooftop @ 1WLO.
The first thing we noticed was that this rooftop bar attracted a very trendy and mature crowd. It was a very welcomed thing for us as we just came from the beach which was crawling with spring breakers in ages under 20.
As usual, we asked for a table by the edge of the terrace. A big part of the terrace lays in the shadow, but we manage to get some hours in the sun before the it started to set.
Views and atmosphere:
Maybe not the best view you can get in Fort Lauderdale or Florida. But still some nice skyscraper and sunset views to enjoy. Especially during a sunny evening. You can also see the Museum of Art from Rooftop @ 1WLO.
If you like a luxurious feeling, this is the place to be at in Fort Lauderdale. The well dressed and a tad older crowd creates a calm yet festive atmosphere. Very classy and we could also spot some bigger groups of after workers enjoying themselves in the evening sun. A great place to unwind at after a hard day of work.
Food and drinks:
A very positive thing at the rooftops we have visited in Florida is the quality of the food. And Rooftop @ 1WLO was no exception. We tried some different sharing plates along with some mocktails (non-alcoholic drinks).
The sharing plates were very good. Sirloin skewers, Short rib Grilled Cheese, Pork belly Boa Buns and Smoked Tuna Dip. I liked them all. They served in a fresh and nice way and the taste was there as well. If you'll ever visit Rooftop @ 1WLO, you must try the food. Cocktails were delicious to.
SWIPE for more pictures below:
Conclusion:
If you want to unwind with a glass in your hand among trendy people, Rooftop @ 1WLO is the place to visit in Fort Lauderdale. The view might not be the best in town, but the good food and lovely vibe is more than enough to come here.
And the fact that this is the only true rooftop bar in the city also makes it worth a visit. We liked it very much!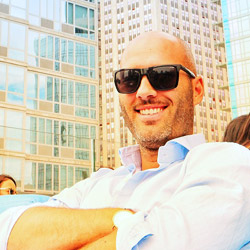 Written by:
Hans Ebenman
- Co-founder, CEO & rooftop expert at The Rooftop Guide