16 ROOF at Swissotel in Istanbul
Review
16 ROOF at Swissotel in Istanbul
"Vibes, cigars and views to die for"
Published: May 31, 2018
A classy rooftop bar with great food, cigars and views to die for
We had reserved a table, at 16 ROOF on a Friday at 9:00 PM to get a nice rooftop dinner and some nice party vibe. Unfortunately, Ramadan had just started, which meant that the atmosphere and vibe was very calm.
But in this way, we could focus on the food, drinks and cigars instead. And all these things were fantastic. More about that later.
View and atmosphere:
The view from here is quite spectacular. Premium views over Bosphoren and the Asian part of the city on the other side of the water.
The rooftop is equipped with four different levels. The first floor has smaller tables and seats for dinner and drinking guests. One level up you'll find larger tables for bigger companies. This is where we got our dinner table for 7 persons. On the third level they have some big round tables for drinking and bar snacks. These tables are very popular, and we can understand why. Everybody loves a round table.
And last, the fourth level have a big bar counter and some standing seats. From here the view is amazing. You'll feel like you're on top of the world while gazing out over Bosphoren and the beautiful surroundings.
The evening we were here, the vibe was very calm and sophisticated. A couple of dinner guests and some people on the third floor in the popular round tables. Otherwise there was a lot of free seats available here for being a Friday evening. Usually during the weekends, this place is perfect for a nice rooftop party. Check out this video to see what we mean.
Food and drinks:
WOW, is a word that describes both the food and drinks at 16 ROOF. There's a variety of different dishes to choose from. Lot's of Asian food like sashimi, sushi, bowls and also lots of different meats with tasty sides and sauces. Check out their menu here.
Regarding drinks they have a lot of wines, cocktails, beers, spirits etc. There's something for everyone here. We decided to drink some beers, red wine, rum and Raki. Top notch all the way!
And as the icing on the cake, we shared some cigars after the dinner. Cubans from the special cigar box that you can ask the dining staff about.
Swipe for food, drink and cigar pics
Conclusion:
16 ROOF is a great rooftop bar in Istanbul for a late dinner or just some evening cocktails. Usually the vibe is very party friendly during the weekends and a little bit calmer on the weekdays. If you place high value in food and drinks, this is a must visit.
Make sure to book your table in advance, if you're a larger company. We recommend 16 ROOF to everybody that are visiting this lovely city in Turkey.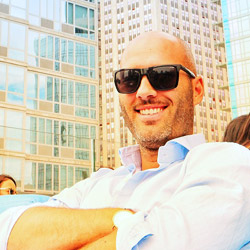 Written by:
Hans Ebenman
- Co-founder, CEO & rooftop expert at The Rooftop Guide