The fantastic Ritz Carlton Shanghai, Pudong and their rooftop bar Flair
Review
The fantastic Ritz Carlton Shanghai, Pudong and their rooftop bar Flair
"One of the best rooftop bars in Asia"
Published: August 31, 2018
Luxurious infinity pool, one of the best rooftop bars in Asia and a service to die for. Read all about our visit at this amazing 5-star hotel
Ritz Carlton is one of our favorite hotels in the world. We have stayed at their hotels in many cities and now it was time for us to try Shanghai. Mostly because of their fancy rooftop bar called Flair, but also for the luxurious feeling and top-notch service. And we wouldn't be disappointed.
Flair Rooftop Bar:
One of the highest and coolest rooftop bars in Asia. From the 58th floor you get a spectacular panoramic view of the city as far as the eyes can see. You'll be amazed when stepping out on the terrace the first time.
There's both an indoor and outdoor area here, in which both you can eat and drink. Make sure to book your table in advanced to secure a spot on the outside terrace.
The food menu has a wide range of different dishes in all its forms. Sushi, burgers, salads etc. There's something for everybody available here. And of course, lots of different cocktails as well. Both classics and some signature ones.
We liked both the food and drinks. But it comes with a pretty high price, as with all other rooftop bars around the globe. Still worth every penny considering the view, service and quality of the food and beverage.
Infinity swimming pool and Spa:
One thing that we love with Ritz Carlton is that they often have fantastic spa and swim areas. And Shanghai was no exception. Perched on the 55th floor you'll find the harmonious and luxurious spa area. This place is never crowded as the only ones allowed here are guests of the hotel. Very nice and if you're up early (like us) you can have the whole area for yourself. Talk about luxury!
Here you'll find a big infinity pool with sweeping skyline views and heated water. Many people come here to swim while others just want to relax in the comfy lounge furniture's. You'll also find a smaller swimming pool up hear that works like a jacuzzi. The water is very warm, and you can get your own spot with jacuzzi functions.
Rooms:
The rooms here are super luxurious with views over the city in different directions. We were lucky to get Pudong River and skyline views from our room. And all rooms here are very spacious with lots of space and luxurious décor. You even have an own TV by the bathtub.
And the bathrobes are the best we ever tried. Soft, comfy and very good looking.
If you have money and availability, it's recommended to update to Club Lounge Level. Every day you have 5 different times when you can visit the club lounge on the 49th floor, for food and refreshments. Everything from breakfast, midday snacks, afternoon tea or some wine and cheese in the evening. The food, drinks and service up here were amazing.
Service:
Two things you can be sure of when staying at a Ritz Carlton hotel are a luxurious feeling and a superb service. The Ritz Carlton in Shanghai offers a perfect service for all its customers. Attentive, kind and always with a smile. You feel like a king in every corner of this hotel.
Conclusion:
As you may notice, we love everything about The Ritz Carlton Shanghai, Pudong. There's nothing to complain about here. Not even for the super picky ones. The price tag is quite high for being in Shanghai, but still worth every penny considering what you get.
• Best hotel in Shanghai
• One of the best rooftop bars in Asia
• Fancy infinity pool
• Great service
• Club lounge availability
• Spacious rooms
• Spectacular views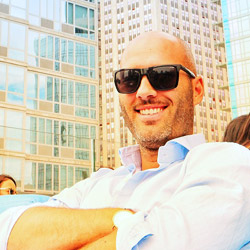 Written by:
Hans Ebenman
- Co-founder, CEO & rooftop expert at The Rooftop Guide