Octave Rooftop Bar at Marriott in Bangkok
Review
Review:
Octave Rooftop - A popular and spectacular rooftop bar in Bangkok
"Probably the best view in Bangkok"
Published: May 6, 2019
Sunset, cocktails and bar bites at one of the most famous rooftop bars in Bangkok.
Octave Marriott is always mentioned among the best rooftop bars in Bangkok when people are asking for advice or when reading articles on internet. And we can understand why. The view, atmosphere and Instagram moments you'll get up here are quite ordinary.
There are actually a couple of different levels and terraces up here. We visited the rooftop bar on the highest floor and also the restaurant 3 floors down. Both with a different vibe, setup and menu. Enjoy our review of Octave Rooftop Bar, here.
THE ROOFTOP BAR
When stepping out on this roof terrace you'll be amazed by the fantastic view in front of your eyes. There are a few rooftop bars in the world where you get this feeling. Octave Marriott is one of them. Spectacular 360-degree view.
It's advisable to book your table in advance as this is a super popular rooftop bar. Both among locals and tourists. And make sure to come here just before sunset. You'll get some great photo opportunities and beautiful views to look at.
The live DJ creates a great vibe throughout the evening.
SWIPE FOR MORE PICS
There are only drinks and smaller bar bites available on the menu here. The cocktail list consisted in both classics and some signature ones. We tried some different ones and they all tasted very well. Cold and refreshing.
The only downside with Octave Marriott is that it's very crowded and sometimes it feels a little touristic. But still very good. It's almost impossible to not get this feeling when you have a view like this. It's still way better then the tourist traps at Lebua State Tower.
SWIPE FOR MORE PICS
THE ROOFTOP RESTAURANT
Three floors down you'll find the rooftop restaurant. The vibe here is more tranquil and chilled. Both families, romantic dates and larger groups of friends come here. Same strategy here, book your table in advance.
We got a table for two with a great view of the city. The big chairs created a cozy and privet feeling. From the first second down in the restaurant the service was great. Fast and attentive service. And always with a smile.
We had heard that the sharing plates was supposed to be great up here, so we ordered 5 different ones. Wagyu sliders, gyoza dumplings, seared salmon, chicken skewers and lobster tacos. The food was delicious. These type of sharing plates are superb and a perfect way to share the food between everyone. I must say that 5 plates were perfect to share for 2 persons.
SWIPE FOR MORE PICS
CONCLUSION
Octave Marriott Rooftop is a must visit when speaking of rooftop bars in Bangkok. Good food and drinks in all honor, but when talking about Octave, it's always the view that's is the number one thing. And you won't find much better views of Bangkok than this.
Bring your camera/smart phone and you'll impress on all your Instagram followers. And of course at the same time have a lovely evening and experience.
Address: 2 Sukhumvit Soi 57 Klongtan Nua, Wattana Wattana Bangkok, 10, 10110
• Spectacular 360 view
• Rooftop bar and restaurant
• Skyline views
• Popular
• Lounge and party vibe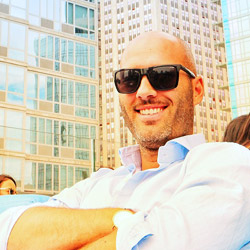 Written by:
Hans Ebenman
- Co-founder, CEO & rooftop expert at The Rooftop Guide