The Mondrian Hotel Los Angeles and their trendy SkyBar
Review
The Mondrian Hotel Los Angeles and their trendy SkyBar
"Luxurious hotel with a luxurious terrace"
Published: November 22, 2018
Gorgeous balcony suite, trendy people and a fancy rooftop pool. Find out all details of this amazing hotel and terrace here:
The Mondrian Los Angeles is a classic hotel in West Hollywood, where trendy people gather during weekends. This place is also a well seen venue in the famous series called Entourage, which is a big reason why many like to come here to hang out by the pool area.
We decided to spend 2 nights in a suite here, to get the full picture of everything.
THE ROOF TERRACE, SKYBAR
As a guest of the hotel, you have access to the terrace from 7:00 AM to late in the evening. For non-hotel guests, the terrace opens up in early evening during weekdays and around noon on the weekends. We visited SkyBar during both these events and both had some nice upsides.
During morning and noon, the terrace is almost empty. Because of the jetlag I was up around 8:00 AM and hade the whole terrace for myself. Beautiful to watch the sunrise from the pool area. During morning, the terrace is also open for breakfast. A perfect way to start your day with a swim in the pool and then head down to grab something to eat.
In the evening, the atmosphere is livelier and trend party people gather here to sip cocktails while gasping out over the LA skyline. The terrace is located on the same floor as the lobby, but still gives a nice view of the city.
VIDEO OF THE TERRACE:
HOTEL AND ROOMS
We booked our stay in one of the suites. And our eyes felled on the amazing Balcony Suite. This suite is equipped with a large balcony overlooking the skyline of Beverly Hills and parts of Hollywood and downtown. There's also a living room with an oversized sofa and some chairs, while the bedroom has a large king-size bed that is super comfortable. To be able to wake up to the view of LA was a very luxurious feeling./p>
The hotel has wallet parking for $44 per day, which is very welcomed if you're coming here by car. LA without a car can be quite difficult. Otherwise everything felt fresh and modern. You could tell the most people staying here was between 20-40 years old, which created a lively and nice vibe in all corners of the hotel. The downside is that it can be quite noisy late in the evening.
CONCLUSION
A luxurious hotel with a luxurious terrace. Book your stay at the hotel if you'd like to spend some lone time by the pool and visit the rooftop during evening or weekends as a non-hotel guest. We liked both the rooms and the terrace. A good place to spend your days at when visiting West Hollywood.
Address: 8440 Sunset Boulevard, West Hollywood, CA 90069
• West Hollywood
• Nice swimming pool
• Luxurious
• Trendy and chic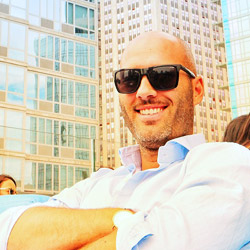 Written by:
Hans Ebenman
- Co-founder, CEO & rooftop expert at The Rooftop Guide