Monarch Rooftop Bar in NYC
Review
Monarch Rooftop Bar in NYC
"Party vibe and premium views over Empire State Building"
Published: July 18, 2018
The best party vibe on a rooftop in NYC along with premium views over The Empire State Building
Monarch Rooftop Bar is a lovely sky lounge right in the middle ow Midtown Manhattan. We decided to have some drinks and sharing plates here on a Saturday evening. The same day it the Pride Festival took place on Manhattan, which meant that it was a great party atmosphere on the rooftop terrace.
Terrace and view:
When stepping out on the terrace, we were met by a noisy and fantastic party vibe. We got in the mood for party directly, which felt super nice. We also got two great seats with a table by the edge of the terrace, overlooking the Empire State Building and the surrounding buildings. The terrace is located on the 18th floor, but still gives a superb skyscraper view of Manhattan.
The terrace is equipped with both standing tables, sofas, regular tables and lounge chairs. There's also a big dancefloor in the middle of the terrace and an inside area for people to chill out in. In other words – Monarch Rooftop Bar is a versatile rooftop that suits everyone.
Atmosphere and food:
We were lucky to time a superb party evening with great music, dancing contests and a vibe to die for. There's a lice DJ playing great tunes, both classics and new ones. The crowd here is a mix between both young and old.
However, this is no place for the couples looking for a quiet dinner. The atmosphere is lively through the whole evening. See movies the see what we mean:
The food menu consists in a wide variety of different sharing plates. We decided to order some pizza, spicy boneless chicken wings and dumplings. Loved the food! Quality straight through.
Drinks were good as well. They had my two favorites, Old Fashioned and Negroni. Nothing beats a great Negroni with views over the Manhattan skyscrapers.
Conclusion:
We had our funniest evening during our visit I NYC, at Monarch Rooftop Bar. Much thanks to the lovely vibe and great service. We were treated super good by all staff working here.
If you want a party night to remember, you must visit Monarch Rooftop. Advisable during a Friday och Saturday when the party vibe is at its best.
• Great party
• Tasty food
• Attentive service
• Empire State Building views
• Mixed crowd
• Classic drinks
• Midtown location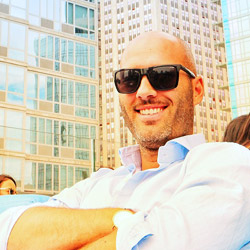 Written by:
Hans Ebenman
- Co-founder, CEO & rooftop expert at The Rooftop Guide